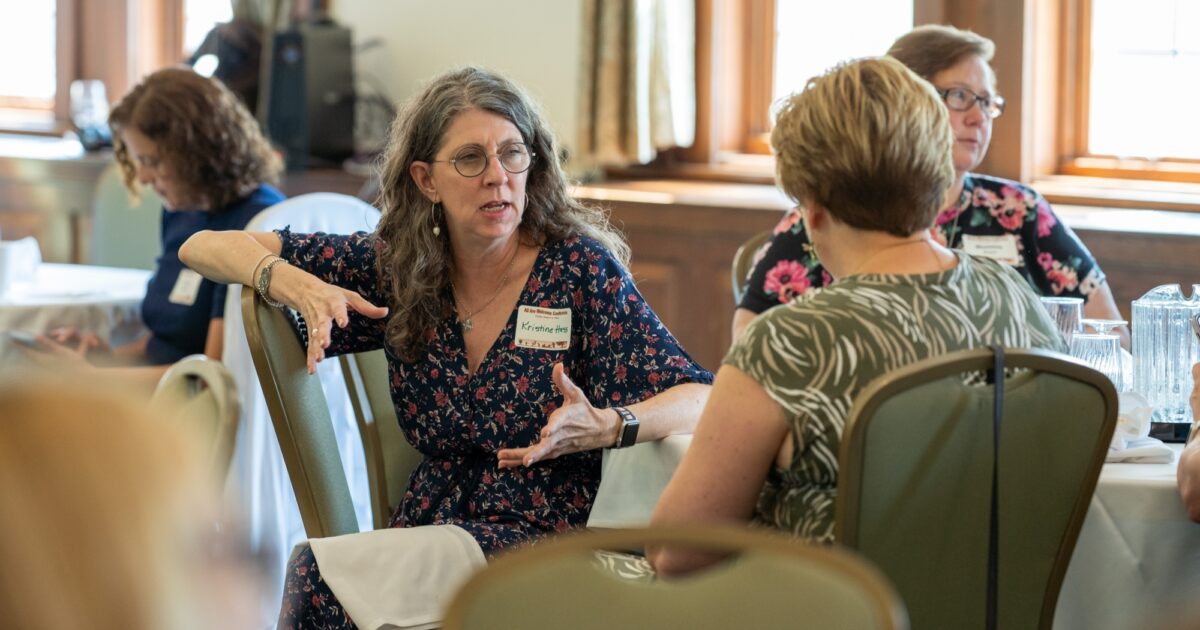 Archdiocesan Conference Focuses on Building an Inclusive and Accessible Church for People with Disabilities
Clergy, Catholic school leaders, catechists, teachers and lay ministers gathered at Sacred Heart Major Seminary for a day of reflection and education during the "All Are Welcome" conference on Friday, August 5, which focused on building an inclusive community for people with disabilities. (Valaurian Waller | Detroit Catholic)
The "All Are Welcome" conference challenges ward leaders to pay attention to the needs of underserved families, ask "How can I help? »
DETROIT – The ministries of the Archdiocese of Detroit attended the All Are Welcome conference on August 5, which focused on creating an inclusive community for people with disabilities.
Clergy, Catholic school officials, catechists, teachers and lay ministers gathered at Sacred Heart Major Seminary for a day of reflection and education with a keynote presentation by Sr. M. Johanna Paruch, FSGM, Ph.D., professor of theology at the Franciscan University of Steubenville. The free conference was sponsored by Ascension Southeast Michigan Community Health and the Archdiocese of Detroit.
If the participants took away only one thing from the conference, Sr. Paruch said she hoped it would be that "everyone's attitude should be that of Christ," she said.
"It feeds everything. Our attitude should be that of Christ, who became flesh for us," said Sr. Paruch, who is also a consultant to the Committee on Evangelism and Catechesis of the United States Conference of Catholic Bishops. "We must remember that Christ emptied himself and took on the form of a dying man on the cross for us. When Jesus was on the cross, he was also totally disabled. So he always becomes who we are.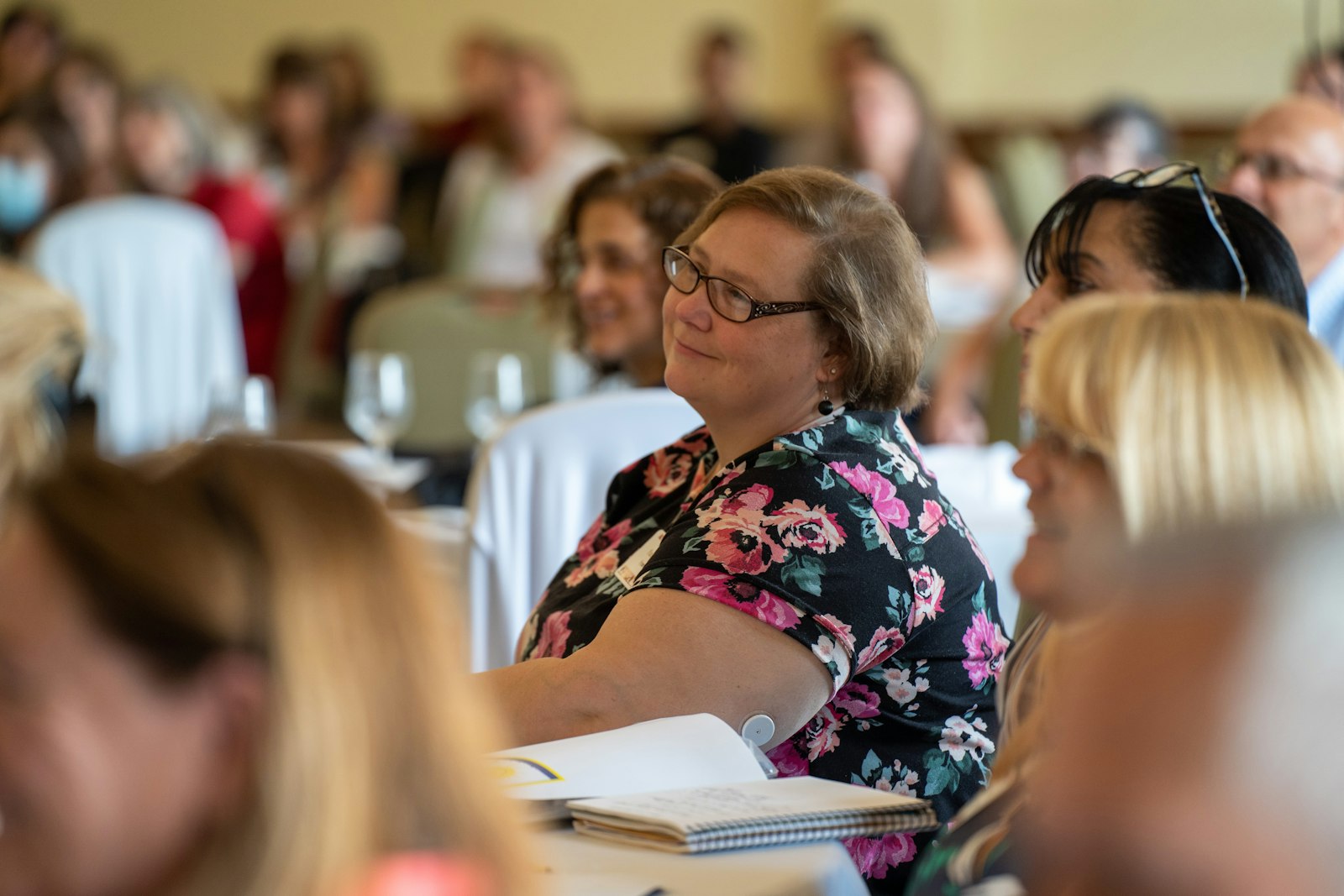 Conference participants listen to Sr. Paruch's opening address. The conference also included breakout sessions, a mass and lunch. (Valaurian Waller | Detroit Catholic)
Sr. Paruch used anecdotes from her own life to illustrate inclusivity, beginning with her childhood and family, talking with colleagues and students, and sharing stories of saints with disabilities.
Sr. Paruch shared her devotion to Saint Margaret Castello, known as "little Margaret". Born in 1297, Margaret had an extraordinarily deep curvature in her spine, which made walking difficult. Margaret was born blind and most modern scholars believe she also suffered from dwarfism, Sr Paruch explained. Margaret's parents tried to heal her and locked her in a room next to the church and slipped food for her. Margaret eventually escaped and joined the Third Order Dominicans.
"She had tremendous faith in God, and she could have been totally dejected" because of her experience, Sr Paruch said. "She came out to evangelize, and in those days people were probably running in another direction when they saw her coming. A lot of people would think Margaret was a witch or that God punished her…all those stupid reasons they had and still have for people with disabilities. She said she wondered why people took pity on her; was it not a privilege to suffer with Christ? Suffering, for her, was the way to paradise.
Understanding this Catholic perspective on suffering is extremely important, Sr. Paruch said, but when talking with people with disabilities or their parents, "redemptive suffering" is not the first thing to talk about. Instead, approach the conversation with love and a listening ear, she said.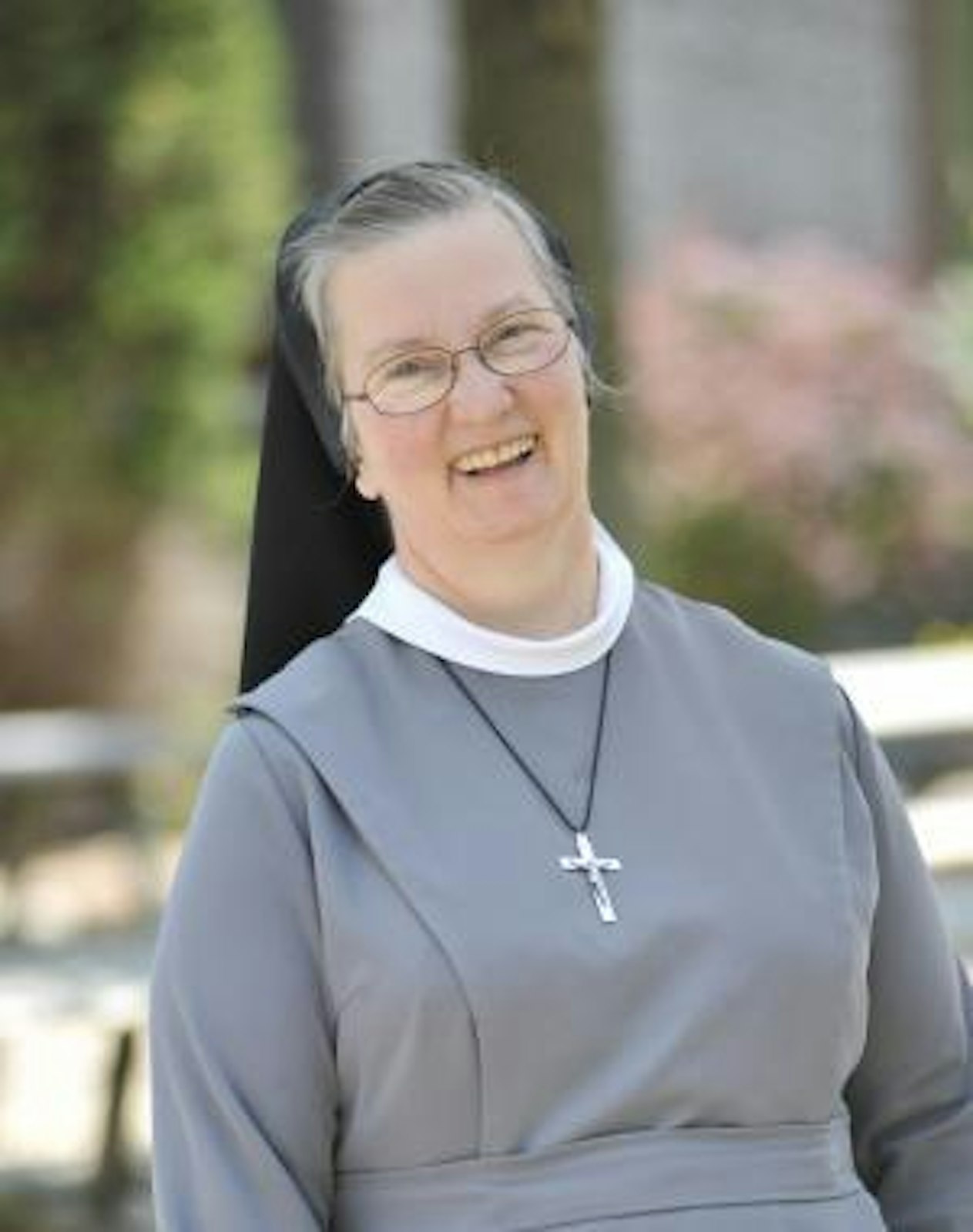 Sr. M. Johanna Paruch, FSGM, Ph.D., professor of theology at the Franciscan University of Steubenville, was the keynote speaker for the conference. (Courtesy of Franciscan University of Steubenville)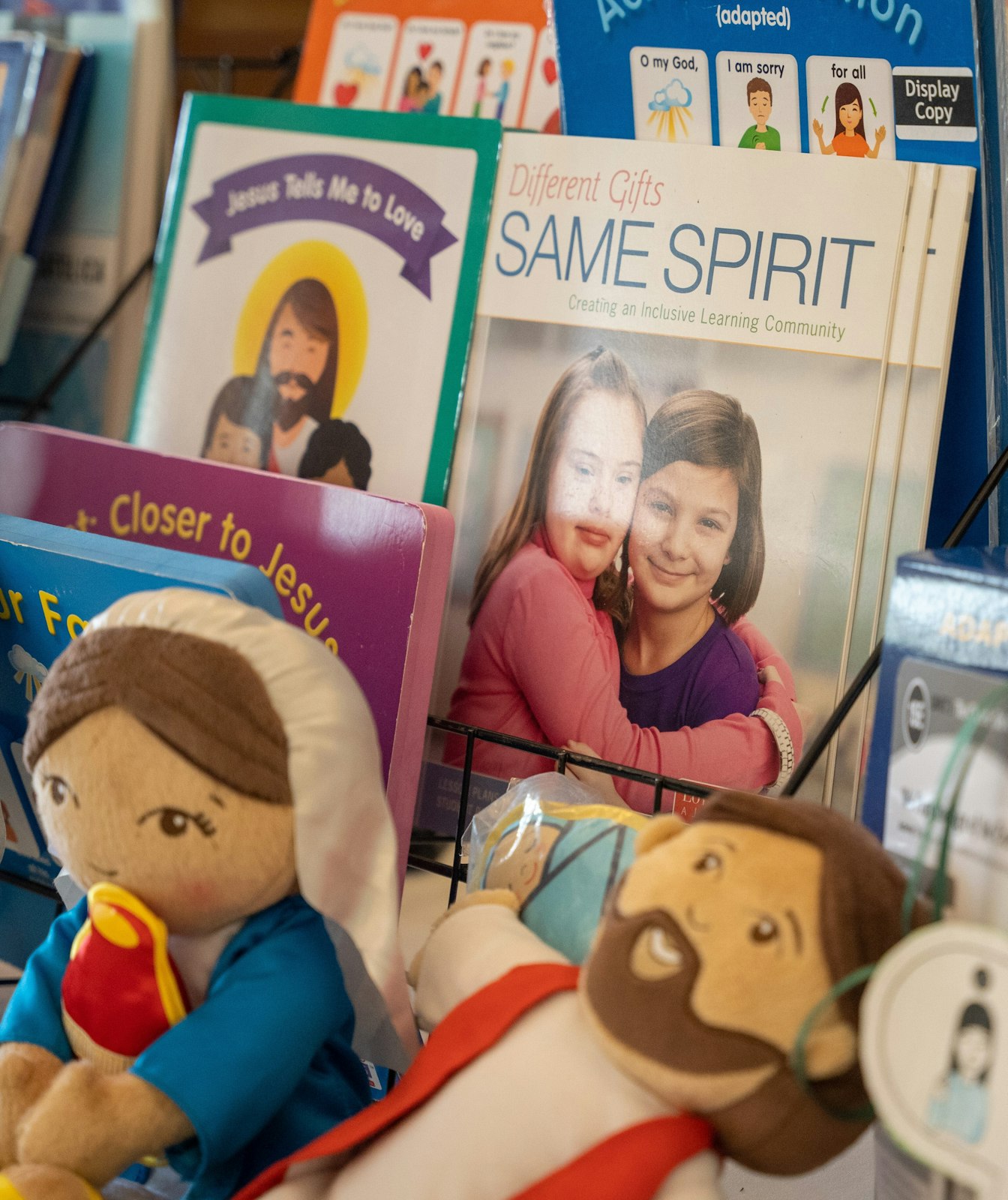 Children's books and toys promoting inclusiveness for people with disabilities are featured at the August 5 conference. (Valaurian Waller | Detroit Catholic)
Often, says Sister Paruch, people say there are no people with disabilities in their parish, but this can often be because the church is simply not accessible.
"When people say, 'We don't have disabled people in our churches,' that's impossible," Sr Paruch said. "We have to get rid of this idea because what is probably happening is that the parish is not accessible. I'm not just talking about wheelchair ramps and accessible bathrooms or interpreters or braille or whatever. If people don't welcome our brothers and sisters with disabilities, then it's not accessible.
Sometimes parents who enroll their children in religious training courses or religious events do not mention their child's disability or request accommodation for fear that the church will not let their children attend, Sr. Paruch.
"Because of the gospel, we cannot do this. When you consider working with people with disabilities, there is the medical and therapeutic side, but that is not our job; our work is pastoral and catechetical," she said. "So that's what we're trying to do, and to be pastoral we have to be welcoming. We need to be welcoming enough that parents want to tell us.
Nicole Joyce, associate family ministry director for the Archdiocese of Detroit, said many parishes and schools in the archdiocese offer programs such as adaptive catechesis for sacrament preparation and work to make buildings accessible.
In June, Joyce formed a group of lay ministers to deliver adaptive programs in hopes they can become mentors to others who want to do more to make their parishes inclusive.
"I think we could definitely do a better job as a people as a whole of being more inclusive just in how we interact with people when they come through our doors, making sure we're friendly and hospitable and asking "Is there anything I can do for you? "Said Joyce. "'What do you expect of me to have a better experience at Mass?' or 'What do your children need from us to better live the sacraments and participate in the life of the church?'
"I think it's really important that we as a church are constantly aware that anyone who walks through our doors might experience something that we can't see or understand and how important it is for us to be there, to welcome them and to be accommodating and inclusive.
Copy permalink