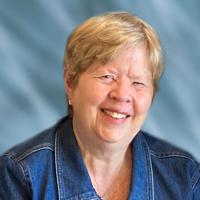 Barbara L. Martin | Obituary
Barbara L. Martin, 77, came into Jesus' arms after a brief illness on December 2, 2021. Barb is survived by her sister-in-law Betsy (Elizabeth Smith) Martin of Lancaster, her nephew Douglas Edward Martin, her beloved wife Mary Lathrop Martin of Downingtown, PA, and niece Amy Louise Martin of Newtown, PA. Barb was predeceased by her brother Donald E. Martin and her parents David Everett Martin and Catherine Elizabeth Martin, all from Lancaster. Barb was dearly loved by her church family at South Hills Assembly of God and will be sadly missed. Barb will be remembered for her infectious laughter, her love for Jesus, her love for his Word and his teaching. Now, she's with the One she's served faithfully all these years.
Barb was born and raised in Lancaster, then moved to Bethel Park, PA, where she devoted her entire career teaching at Bethel Park High School (BPHS) after attending West Chester State College. Barb was a qualified health and physical education teacher at BPHS, where she also choreographed an underwater ballet – called the Water Show. After her retirement, she continued to use her teaching skills as an anointed Bible teacher. Barb's interests included gardening, cooking, and she enjoyed music and hosting dinners and studies in her home. She also loved vacations in Stone Harbor, New Jersey, with her family.
A service will be held Thursday, December 9 at 11 am at South Hills Assembly of God 2725 Bethel Church Rd., Bethel Park, PA 15102. A visit will precede the service from 9:30 am to 11 am. https://southhillsag.org/. An evening visitation will be held on Wednesday, December 8 from 6 p.m. to 8 p.m. at the Peters Township Funeral Home at 2820 Washington Road, McMurray PA 15317. https://www.beinhauer.com/peters-township-funeral-home. A funeral service will be held at 11 a.m. on Tuesday, December 14 at Strasbourg Mennonite Cemetery 1514 Village Rd., Strasbourg, PA 17579.
In lieu of flowers, contributions can be made in memory of Barb at South Hills Assembly of God, Bethel Park, PA 15102.