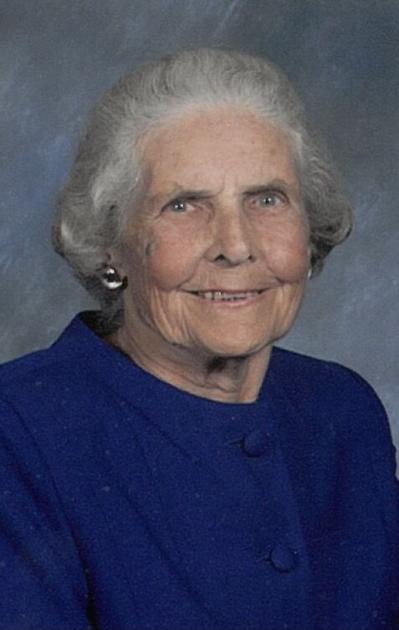 Bonnie F. Scott | Obituary
Bonnie Fields Scott, 98, of Carthage, died at her home on Saturday July 3, 2021, surrounded by her daughters and grandsons.
Bonnie was born March 10, 1923 to John and Sadie Fields. She married Harry Nathaniel "Bill" Scott. Together, they built a working farm and raised a family of four daughters. They were honored to be named the North Carolina Conservation Family Farm of the Year. As proud stewards of the land, they made sure nothing was wasted by sharing the fruits and vegetables from the family garden with the community, even delivering them to elderly friends and family.
Bonnie had a deep love for God and his church. She was a life member of the First Presbyterian Church and held numerous positions and served on various committees. She was proud to be a member of Carthage Chapter 154 of the Eastern Star, having even served several times as a Worthy Matron. Bonnie was recently honored for her 60 years of service. In addition, she was an integral part of the Carthage Women's Club for 60 years. She also volunteered with the American Red Cross, working with the local Bloodmobile for over 50 years. In her spare time, she enjoyed gardening and tending to her beautiful yard, which pleased her and others.
Besides her parents and her husband, Bill, she was predeceased by a daughter, Bonnie Jean Horne; and her siblings, Hoover Fields, Florence Fields, Carrie Lee Barker and Frances Stutts. She was also predeceased by her sons-in-law, Cary Phillips, Jeff Myrick and Tony Byrd.
She is survived by three daughters, Alice Byrd, Linda Myrick and Joyce Phillips, all of Carthage; and his grandsons, Scott Horne, Heath Myrick, Jason Myrick and Nathan Phillips.
The funeral will be on Wednesday at 2 p.m. at the First Presbyterian Church in Carthage, with the Reverend Rick Martindale as celebrant. The family will receive friends before the service in the sanctuary starting at 1 p.m. Interment will follow at Cross Hill Cemetery, with a reception thereafter at the Family Life Center of the First Presbyterian Church.
Briefs can be made at First Presbyterian Church, PO Box 397, Carthage, NC 28327; or FirstHealth Hospice Foundation, 150 Applecross Road, Pinehurst, NC 28374.
Fry and Prickett Funeral Home is at the service of the Scott family.