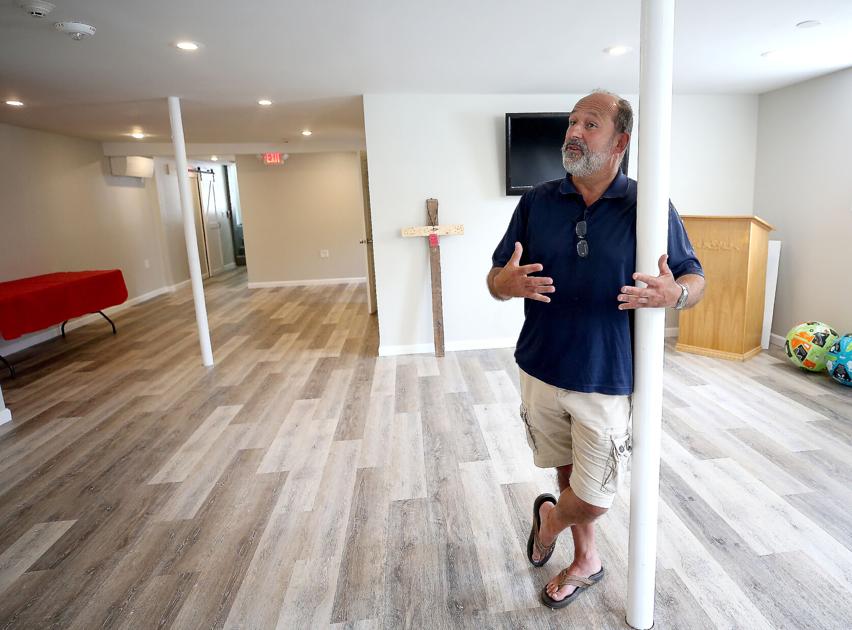 Bowling for Joy: Bradford Church Builds Its Forever Home on Bowling Lane | Where is
WEST – As a Minister, Mark Benson knows there are times when it takes persistence toward a goal, even when it seems elusive or the road strewn with obstacles. He says the story of Joy Fellowship Church in Bradford, where he is pastor, is an example.
About 14 years ago, shortly after Benson became a pastor, he said he became convinced his congregation belonged to Bowling Lane. The only problem was that the only church building across the street was the still active but declining Niantic Baptist Church, an American Baptist Church. The Joy Fellowship is affiliated with the Assembly of God.
"We planted this 14 years ago, but that building wasn't available, but we always knew this is where we would be," Benson said in a recent interview as he sat in the sanctuary of what is now the Joy Fellowship at 17 Bowling Lane. .
Since those uncertain days, the Joy Fellowship has grown into a congregation of about 125 people and has more than doubled the physical size of its building. The building is open seven evenings a week for music, prayer, and addiction recovery activities, and the congregation recently moved their bustling pantry to a new location a few doors down from the church.
"We're growing up like crazy. Everything has changed dramatically," Benson said.
In need of housing, Joy Fellowship started meeting at the old Bradford Primary School, then moved to a less than ideal location in the city center on Railroad Avenue, next to Danny's Bar.
"It got tough, especially on Friday nights for our youth group," Benson said.
The congregation, Benson said, slowly began to shrink, giving him moments of doubt.
"I had prayed personally – where we were on Railroad Avenue – we were getting really small again and I was even wondering if we would even remain a church. It kind of went down for no reason. I prayed and felt that what the Lord had for us was still alive, "said Benson.
Then Benson, though he could barely afford it, attended an Assembly of God conference. While there, a fellow pastor read a passage from the Bible in a breakout session that Benson said provided additional reassurance that he and his congregation should be on Bowling Lane.
Eventually, Benson learned that the Niantic Baptist Church was planning to close its doors for good, and soon after, he began talks to buy the building. Talks began even though Benson's church had no money for the transaction and no plans for a fundraising campaign.
"Literally, for us at the time, we were a church of 20 people and we had no funding," Benson said.
When Benson met with officials from the Niantic Baptist Church and the American Baptist Church, he essentially asked them to take the same leap of faith he was doing.
"I would say to them, 'We have no money but I believe I have a word from God.' They were gracious, "Benson said.
According to Benson, his congregation found funds along the way, and then unsolicited and perfectly timed donations arrived just as the promised payments to the American Baptist Church were due. Eventually, the Joy Fellowship closed the transaction and purchased the building.
Since acquiring its new home approximately nine years ago, Joy Fellowship has renovated and expanded the building from its original footprint of less than 3,000 square feet to its current 10,000 square feet. The property also needed a septic tank, as it was previously connected to the Bradford Dye Association system.
An engineer for the renovation and expansion donated most of his time and the architect donated his time. Members of the congregation did most of the work, and former Dunn's Corners Fire Chief Michael Frink represented the church in its talks with state firefighters before the building was deemed compliant. to the requirements of the contemporary building code.
At the end of 2020, the church opened a pantry in its basement. The response and the need has been so constant that the pantry was recently moved to the community center building at 70 Bowling Lane whose church was donated by Origen Property Investment, a company that has acquired several duplexes across the street. in 2013. Westerly Hospital and Westerly The Kimball Foundation, based in Kimball, has been particularly supportive of the pantry, Benson said.
Benson said the real estate investment company donated the building to the church when one of its officials witnessed the church's efforts on the street, particularly participating in a neighborhood clean-up which made it possible to the church to help coordinate multiple trips to the transfer station.
"He was puzzled with me and said, 'Why are you here?' I said because our vision has always been to be part of the community. We don't want to be an organization where people come every week on Sundays. My vision is that this building will be open every night of the week, and it is now, "Benson said.