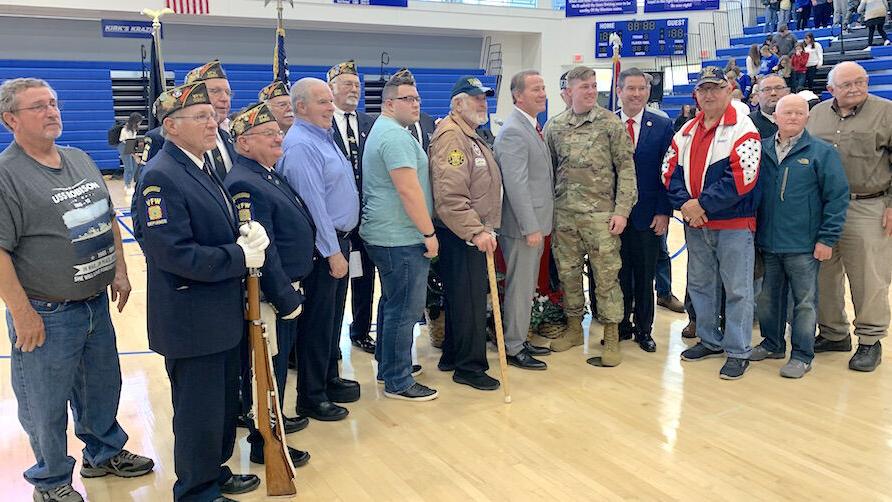 Carr is a guest speaker at the DCS Veterans Day Assembly | Local News
Defiance City Schools held its annual Veterans Day meeting by honoring one of its own on Thursday morning in the college gymnasium.
Guest speaker Austin Carr, a Master Sgt. in the Ohio Air National Guard, and a response specialist at Defiance High School, who recently returned from a deployment to Afghanistan.
While in Afghanistan, Carr led the 387th AES Squadron which was tasked with closing all bases and forward operating bases there, and the closure of the Kabul International Airport, which included loading refugees from the aircraft waiting area.
During his speech and afterwards, Carr made it clear that he was incredibly grateful to the students and staff at DCS and the Defiance community for their support.
"Today was amazing, I wanted to say thank you to the community on several occasions and never had the chance until today," said Carr, who served in the Ohio Air National Guard. since 2012. "What this community has done for me, prayers, support … I knew I was not alone there, I knew the community was supporting me.
"I said that in my speech, but that support really meant a lot to me," Carr continued. "There were times when I was there when I was exhausted, I was homesick, and people in the community were reaching out randomly, it was so amazing. I cannot thank people enough for all the love and support they have given me.
On Thursday were Ohio Lieutenant Governor John Husted; Ohio 82nd House District Rep. Craig Riedel of Defiance; Defiance Mayor Mike McCann; members of Defiance VFW 3360 Color Guard; members of the Defiance Police Department; members of the Defiance Fire Department; and several veterans from the region, who received breakfast before the ceremony.
Students in Grades 7 to 12 filled the gymnasium to hear Carr, Husted and Riedel speak, with several students taking part in the activities. The students served as hosts and ushers, some taking part in the ceremony. DHS High School Band, DHS Choral Department and Defiance News Network were also involved.
Jay Jerger, Principal of Defiance High School, kicked off the festivities by welcoming everyone to the ceremony, sharing, "Today is a very special day, we welcome our veteran military siblings, and we welcome to the House Master Sgt. Austin Carr.
Before the DHS choral department sang "The Star Spangled Banner," members of VFW 3360 Color Guard presented the colors. Isabela Jordan, an eighth grade student at Defiance Middle School, then led the whole thing in the pledge of allegiance.
Seventh grade student Zavier Finkenbiner read the poem "They Did Their Part", followed by sixth grade Jase Brownlee, who read the poem "Why? "
Mallory Weaver, president of the DHS student council, took the podium to present the Defiance High School Band, which performed the "Military Service Song Medley". When every song from every branch of the U.S. military was played, Weaver called on the veterans of those branches to stand up and be recognized.
Rob Carr then took the podium to introduce guest speaker, his son Austin. However, he first recognized all of the veterans present.
He went on to explain that he and his wife, Jean, were the parents of four sons, and although they were not perfect parents, they were involved in the development of their sons. Rob then admitted that Austin was involved in church, sports, and the Boy Scouts (he earned the rank of Eagle Scout).
Rob said: "A lot of people have helped train Austin, his extended and immediate family, coaches, neighbors, teachers, Boy Scout leaders and his church family."
Austin then stepped onto the podium, telling the students and his colleagues that it was great to be back to school, and "I missed you every day."
During his speech, Carr, 28, expressed his gratitude to everyone present, he spoke about the longest three weeks of his life (in Afghanistan) and he said he didn't want to change anything about it. that happened.
A photo of Carr was posted on the dashboard in the gymnasium, showing him smiling, with several Afghan refugees behind him, also smiling. He told everyone that he shared the photo with Defiance educator Tom Held so Held could show everyone at school, "I went for a reason."
During his speech, he spoke of being promoted before being sent to Afghanistan, making him the high ranking officer there. He was in constant communication with colonels and generals, and knew he had to be a leader. A point he made to the students in the crowd.
"There were times when I wasn't sure if I could take the next step, I was so exhausted, but I had to keep going," Carr said. "Whether you know it or not, there are also people who rely on you to uplift you. Don't be afraid, don't run away from the challenge, go for it and face it head-on.
"If an Ohio Air National Guard / High School teacher can be in the middle of Afghanistan, making decisions, telling people what to do in difficult situations, I'm pretty sure you can do that too" Carr added. "Be confident and do what I do, 'Pretend until you can.'"
Carr, and later Husted, spoke about life in America and how lucky and blessed we should all feel. They talked about the women and girls who couldn't get an education in Afghanistan under the Taliban, they talked about many countries where people are not free, and they talked about the veterans and those who are. dead in the service of this country, then we can all live as we want, in a free country like the United States.
"You're very lucky to live where you live, to never lose that pride, to never lose that edge of wanting to get better, because that's what makes America great," Carr said, before ending with: "You are so lucky, because of the brave men and women who fought before us, to make our country a better place.
Husted, from Montpellier, spoke about the freedoms we all enjoy today in the United States and how we need to thank all veterans for those freedoms. He said in 1776 America was an idea, a place where there would be no king, queen or dictator who would tell the people what freedoms they would have.
He spoke about the civil war and the struggle for freedom for all, and the First World War, the Second World War, the conflict in Korea, Vietnam, Desert Storm, Desert Shield, attacks on the America on September 11, 2001 and Operation Enduring Freedom. . He spoke of brave Americans, of men and women fighting against tyranny.
"Right now there are men and women in uniform, ready to stand ready in case someone tries to attack our country," Husted said. "Why do they make these sacrifices while serving in our army? For me, it comes down to one word, freedom. In our hearts and souls, we all want to be free.
"Freedom must be protected, preserved and advanced," added Husted. "Throughout our country's history, men and women in the military have done the hard work in the toughest places. That is why days like today are important.
Husted then honored Carr with a certificate from him and Governor Mike DeWine, naming him Military Man of the Year.
After the meeting, Husted explained why it was important to be there on Thursday.
"Today is an important day, we must celebrate our veterans and the sacrifice they made to advance the cause of freedom," Husted said. "I always say we should celebrate what we value, and we should definitely celebrate their service, because of the great value it has been to our country."
Asked about Carr, Husted said, "What an amazing young man, he has the heart of a servant leader, he is confident and humble, he cares about his country, and you can see he cares about the children and the people of. this school. If every 28-year-old had their character, it would be a much better nation. "
In his speech, Riedel spoke of his move to Defiance and meeting the Carr family 20 years ago while attending services at St. Mary's Catholic Church. He told the crowd, "Austin was just a little dude back then," later telling the crowd that Austin is now "The All-American Boy".
"When I asked my wife, Danette, a few days ago, 'What should I talk about?' She told me to make sure I tell Austin and all the veterans, "We're proud of them," Riedel said. "I want you to know that we are proud of you and we thank you."
Riedel closed by reading a proclamation from the Ohio House of Representatives thanking Carr for his service.
After Ridel's remarks, Wade Liffick, DHS Student Council Vice President, introduced the Defiance High School Chorale Department, which performed "Who are the Brave". The Defiance High School Band followed with "Taps", before the choral department and the band collaborated on "God Bless America".
Matt Carr, Principal of Defiance Middle School, concluded the program by thanking everyone who attended and wishing all Veterans a Happy Veterans Day.