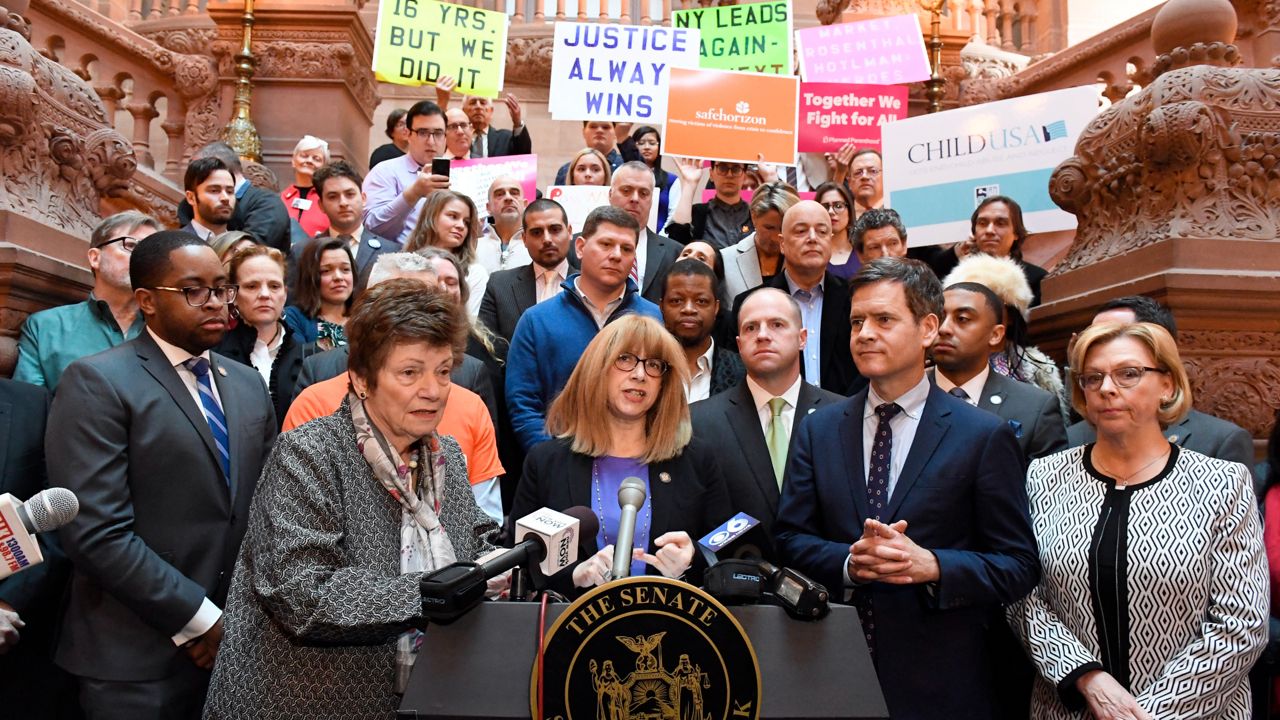 Closing of the Child Victims Act retrospective window
In the two years leading up to August 4, child sexual abuse survivors filed more than 8,263 civil lawsuits in New York City against their alleged perpetrators and the institutions that employed them.
Seven days later, that total jumped from nearly 1,000 to 9,241, according to data from the state's Courts Administration Office.
The dramatic increase in the number of cases precedes the end of a so-called 'retrospection' or reactivation window for child sexual abuse complaints enshrined in law with the Child Victims Act of 2019. The law amended the statute of limitations for such crimes, increasing from 23 to 55 the age at which a person must file a civil complaint for sexual abuse suffered before the age of 18. It also created a temporary period during which people over the age of 55 could also sue for childhood sexual abuse.
This window, which allowed survivors to sue individuals and institutions for abuse dating from the 1970s and before, ends on August 14.
The survivors and their lawyers scramble to meet the deadline, after which the statute of limitations will be in effect again.
The pandemic has increased the burden, lawyers for the plaintiffs say, disrupting the lives of people who may have planned to sue earlier but who have not been able to contact a lawyer so far due to illness or illness. economic difficulties.
"The flow of calls is huge right now because people realize that the time is running out," said Jennifer Freeman, attorney with Manhattan-based Marsh law firm, which oversees CVA lawsuits against major institutions, such as the Archdiocese of New York and the Boy Scouts of America. "They really have to make a decision."
Between Freeman's firm and another law firm they partner with on such cases, they have 20 attorneys who work around the clock to answer last-minute calls from survivors and draft and file new complaints.
In many cases, plaintiffs sue multiple individuals and up to dozens of institutions, and there are also cases with up to 100 plaintiffs, she said, which means the impact of prosecutions CVA filed so far is even larger than the nearly 10,000 cases reported. through the state court system.
The pandemic has also had the effect of slowing down what is often already a slow process, with delays caused by the shift of courts to remote hearings and institutions requesting additional time for disclosure of documents due to the urgency. .
Freeman said she has had complainants with pending cases of COVID-19 deaths.
Governor Andrew Cuomo last year extended the initial 12-month look back period by one year due to the pandemic, but Freeman says that was not enough.
"I don't know who couldn't call me because they are still sick or their loved one is still sick and in pain," she said.
The delay has been frustrating for survivors who filed a complaint on the first day of the Window of Looking Back, such as Rich Cardillo, a client of the Freeman firm, who is suing the Catholic Archdiocese of New York and a Catholic preparatory school in New Rochelle for a sexual assault he says he suffered as a teenager in the spring of 1975.
Cardillo, 52, says a member of the Christian Brothers Congregation who taught at his school groped him and attempted to have sex with him on a trip when Cardillo was 16. The incident derailed Cardillo's life, he says, making him fear his growing sense that he was gay and led him to join the Christian Brothers, a teaching congregation that operates under the auspices of the Catholic Church. , to stifle his sexuality.
In his candidacy interview, Cardillo says, the Christian brothers made him swear not to tell anyone about his abuse in order to join the movement.
"I felt I was not fit to be with another human being," Cardillo said. "It wasn't the way I wanted to live my life."
Cardillo, who lives in New York City, eventually left the brothers, turned out to be gay to his family, and found a partner, who died in 2012 after an 18-year relationship.
"I had to learn more about intimacy," Cardillo said. "I had to learn to share my life with another person. "
Cardillo said the Archdiocese has slowed the discovery process so far by not handing over documents about the many teacher transfers between schools.
"Unless they've been burned, they certainly exist," he said.
Joseph Zwilling, spokesman for the Archdiocese of New York, said he takes all allegations of abuse seriously, but cannot comment on individual cases.
In general, the larger the institution being sued, the more it has tried to delay CVA cases, said Kevin Mulhearn, counsel for a plaintiff who represents clients suing the Archdiocese of New York, Yeshiva University. and ex-Cardinal Theodore McCarrick, who faces criminal charges for sexual abuse in Massachusetts.
Part of the reason is that institutions are waiting for the window of retrospection to close to better understand their potential liability for survivor payments, Mulhearn said.
"This apology ends next week," Mulhearn said. After that, "I expect the discovery to happen at a much faster rate, and I think a lot of these bona fide institutions will start trying to find solutions for the plaintiffs."
The CVA has also destabilized these great institutions, said Marie Reilly, professor of law at the University of Pennsylvania.
Large institutions often rely on insurance companies to pay damages for these kinds of cases, she said, and the possibility of insurance companies suddenly being charged with alleged crimes that have had decades ago has broad and economically destabilizing effects.
"It's not good for any of us, really," said Reilly, who published a study item on New York's Child Victims Act earlier this year. "This creates uncertainty in the insurance markets which spills over to all who use goods and services."
Legislatures in New York and other states have indicated that retrospection periods will likely remain elements of revising statutes of limitations for crimes of abuse: In June, the New York State Senate passed the Adult Survivors Act, which would create another one-year retrospective window for survivors of sexual abuse who were over 18 at the time of the abuse to prosecute alleged perpetrators and guilty persons and institutions, regardless of when the statute of limitations for the crime has expired.
The Assembly did not put the bill to a floor vote, leaving the future of the bill uncertain.