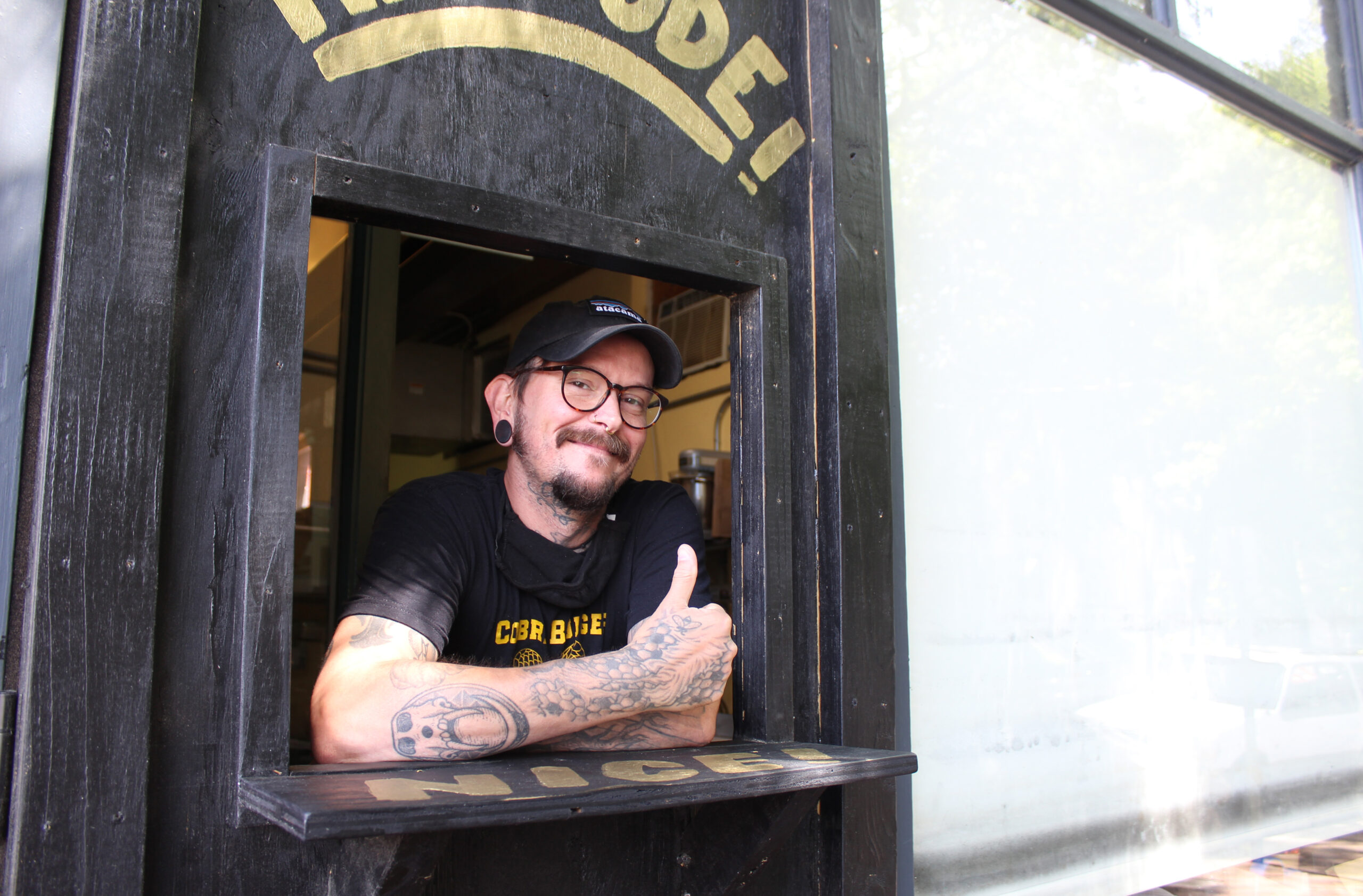 Cobra Burger sneaks into new indoor restaurant in Church Hill
Adam Musselman and Joshua Franklin's transition from full-time butchers to restaurateurs is over.
Their new burger restaurant, Cobra Burger, opened on July 2 for full indoor dining at 400 N. 27th St. after operating on a limited take-out basis since launching in February.
Musselman and Franklin, co-owners of the restaurant with Mike Epps, began cooking together while working at Cardinal State Butchers in Bon Air, where they were able to learn about meat and butchery.
"Going from one butcher's shop to this one made it easier," Musselman said. "We have the best ground beef in town, period. We work with an awesome farm, Grayson Natural Farms in Independence, Virginia. All grass fed, 100 percent pasture raised, conscious management of the land, whatever you want. We grind every day.
Franklin said in addition to general ownership roles, he was also the cheese maker, wine manager and jack of all trades at Cardinal State, while Musselman was the chief butcher before the store closed in August 2020 .
"Cardinal was a great place for Adam and I to get our feet wet and learn about business ownership and how much effort and work it takes to be an effective part of the community," Franklin said.
While at Cardinal State, they operated Cobra Burger as a pop-up for about three years. Before that, Musselman and Franklin had a pop-up called Ivy Wall that was more food-oriented.
"We'd do like eight courses (at the Ivy Wall), you didn't know the menu ahead of time, you didn't know the place unless you bought a ticket." It was a blast, but it was a lot of work, "Musselman said. Joshua finally said, 'Let's make a hamburger pop-up,' knowing we both loved burgers. It was his favorite food as a baby.
Cobra Burger is still working on a bar while waiting for an ABC license. It will offer canned beer and alcohol.
Franklin said they wouldn't have wine in the house, but people are welcome to buy a bottle from the nearby Second Bottle wine store and bring it to the restaurant.
"We are working on a deal with them where they will have 'Cobra coupons'. If you buy your wine there and bring it here, we will have little or no corkage fee. They are awesome and we prefer to foster a relationship there and help support everyone. "
Alcohol aside, Cobra Burger doesn't want to be recognized as another bar in town. They say the star of the Cobra show is the food.
"There are bars that serve food and restaurants that have bars," Musselman said. "We are a restaurant with a bar.
They add desserts to the menu, working with local store Ruby Scoops for ice cream, cookies, and floats.
Preparations for the full opening included renovations to the interior of the Church Hill space, which previously housed Dutch & Co.
Franklin and Musselman didn't allow photos of the space at the time of a recent interview with BizSense, but they said they were very excited about their bathrooms and golden grout. They worked with contractor Abe Abunab, who traveled to Richmond from Detroit to do the work.
The duo said taking the final step of the business and moving from a pop-up restaurant to a full-service restaurant is something they are more than ready to take on.
"While intimidating certainly, we're just thrilled to share the space with everyone and bring people in. It was and is a pretty huge investment and we're more than happy to show it." Franklin said.
They also want to make it clear that they are in no way affiliated with a Cobra Cabana restaurant with the same name and theme in Carver, and added, jokingly, that there is no beef in between. companies.