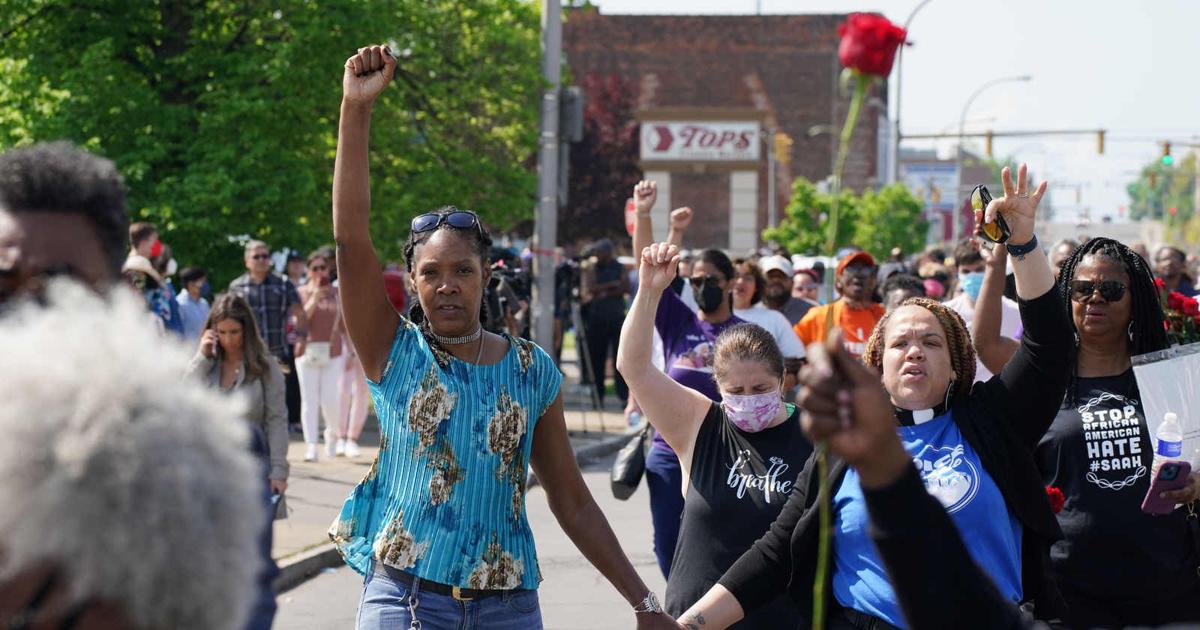 Community holds vigil and protests following racially motivated mass shooting | Local News
Hundreds of people gathered in the streets on Sunday morning near the Jefferson Avenue Tops Markets which were the target of Saturday's mass shooting for a prayer vigil that evolved into a Black Lives Matter protest and rally against the armed violence.
Pastors from many area churches were joined by Muslim and Jewish leaders, community activists, neighborhood residents and other supporters to call for unity, condemn racism and pray for healing.
"Now is not the time to tear our own community apart, because our community has not," Darius G. Pridgen, Bishop of True Bethel and president of the Buffalo Common Council, told those gathered in his Sunday home. church, encouraging them to grieve in a healthy way. .
"Yes, we are angry," said Reverend Charles Walker, who helped organize the vigil. "I have people who have just come back from prison who call me at 3:30 am and say: 'We want to intervene.' And I say, 'For what? It's not up to us to fight. Our job is to continue to love and support each other. ' "
Reverend Denise Walden-Glenn said she spent until 11 p.m. Saturday with families who gathered at the Stanley Makowski Childcare Center to find out if anyone they knew was among the 10 people killed and three injured in the racially motivated shooting.
"Many, many people in this area knew and were close to people who work and shop at this store," she said. "Some of the victims did not have ID cards on them, and as we received reports, there were no words to express the pain. For every family who received a call that a be dear was fine, there was someone who received a call that their loved one was gone.
Walden-Glenn and other pastors stood in the center of a growing crowd and alternated between leading them in prayer and chanting "Black Lives Matter," "This is What the Community Looks Like" and "Who Owns the Black Lives Matter." streets? Our streets! »
Many described the East Side neighborhood as a food desert and Tops supermarket as "our store," where they knew everyone, helped each other with groceries, and commuted to each other.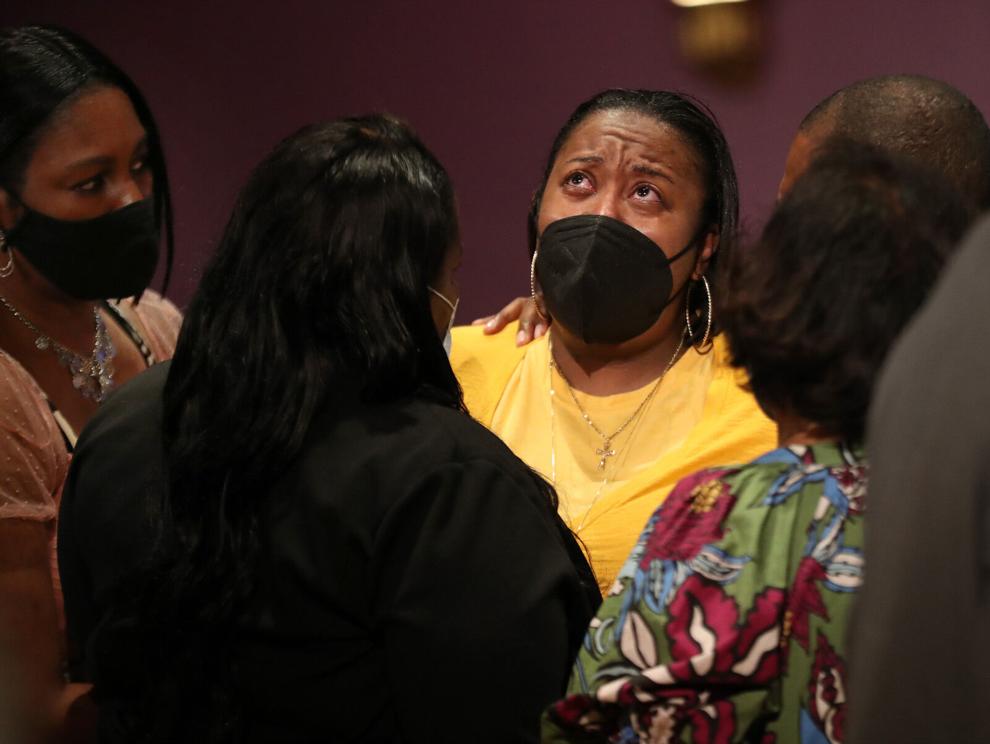 "I can't sleep. I can eat a little, but I keep hearing gunshots and seeing bodies," said the employee, who wished to give only her first name, Latisha.
Tony Sanders, 68, came to the vigil to honor his friend Heyward Patterson, whose first name is listed as Haywood in a church directory. People knew him as a "jitney" who drove people to and from Tops and helped them with their errands. Sanders said Patterson was loading an elderly woman's groceries into his car when she became the first person shot, and he the second.
"He was a deacon and my best friend," Sanders said of Patterson, who died in the shooting.
Tonie Sanders said she came to the wake because she considered the store "my Tops." She also knew Patterson, who she said would see her in the store and ask if she could take someone home.
"He was a wonderful man, and I'm so sad that it happened," she said.
She said the Cold Springs neighborhood is a close-knit community where people help each other.
"I'm scared because in the past we had racial issues, but today this community is a melting pot with people from Bangladesh to Pakistan to India to Sierra Leone," said- she declared. "We all get along and try to have a good life, but he came and disrupted it, and now it will put everyone on their toes. Now you won't know who you can trust, and I don't want that to happen.
Walker, the Reverend James Giles and the Reverend Mark Blue, president of the NAACP, led the rally singing "Amazing Grace". Walden-Glenn announced that Red Cross pastors and counselors will occupy the Johnnie Wiley Pavilion today until 9 p.m. and Monday from 9 a.m. to 9 p.m. to provide comfort and guidance to friends and families affected by the trauma.
Walden-Glenn expressed how many people felt when she described Saturday's shooting as the result of many efforts to shrink black communities.
"He was an 18, 19 year old boy who came here, and his heart was so full of hate that he came to kill us," she told the crowd. "Someone knew enough to walk into the only store we have here to smash our world and devastate our community. As we talk about increasing the police budget by $5.4 million – we need to discuss where to invest this money in our communities and our people. »
"Black people, let's stop blaming ourselves," she continued over a chorus of "Amens."
"I don't want to hear about gang violence in our community anymore," she said. "I don't want to hear about drugs in our community anymore. We didn't bring drugs and we didn't bring guns. We live with this every day. If you want our babies to put put down your guns, give them programs, invest money in their schools, give them something constructive to do and stop trying to destroy our communities."
Ten people were shot dead in a Buffalo supermarket on Saturday in a horrific mass shooting that authorities were quick to call "pure evil"…
Giles, of Back to Basics Ministries and coordinator of the Buffalo Peacemakers, said his group's goal was to repeal laws allowing the sale of assault weapons to civilians.
"This type of weapon was developed to kill people en masse and yet we continue to allow people to buy them," he said.
"I don't hold this young man solely responsible," he added. "He didn't come into the world like that. He is a trigger, or a tool. What kind of parents did he have to bother planning something like this at 18? So I will pray for him too.
Afterwards, many members of the crowd staged an impromptu march around the block, while others who brought flowers gathered several shrines near the store.
Cameron Huckell, an orthopedic surgeon whose office is six blocks from Tops Market, said he often strolls there to grab fried chicken for lunch. He and his friend Suzanne Morrow were going to meet for coffee, but came to the wake instead. They were among many white faces in the crowd who came out to support the community, they said.
Huckell said he felt devastated for his neighbors, but also angry that gun laws allow a teenager to buy assault weapons without caring what he plans to do with them.
"We don't allow everyone to have a personal nuclear weapon, why do they have access to a military assault weapon?" he said. "Why would anyone buy all that body armor? That should trigger a response. Thoughts and prayers are not enough. We need a policy change."
He said white supremacists who spread hate speech should also be seen as instigators of crime and terror.
"Hate speech is killing our country," Huckell said. "Words kill us. Love is the answer and that's why I'm here."