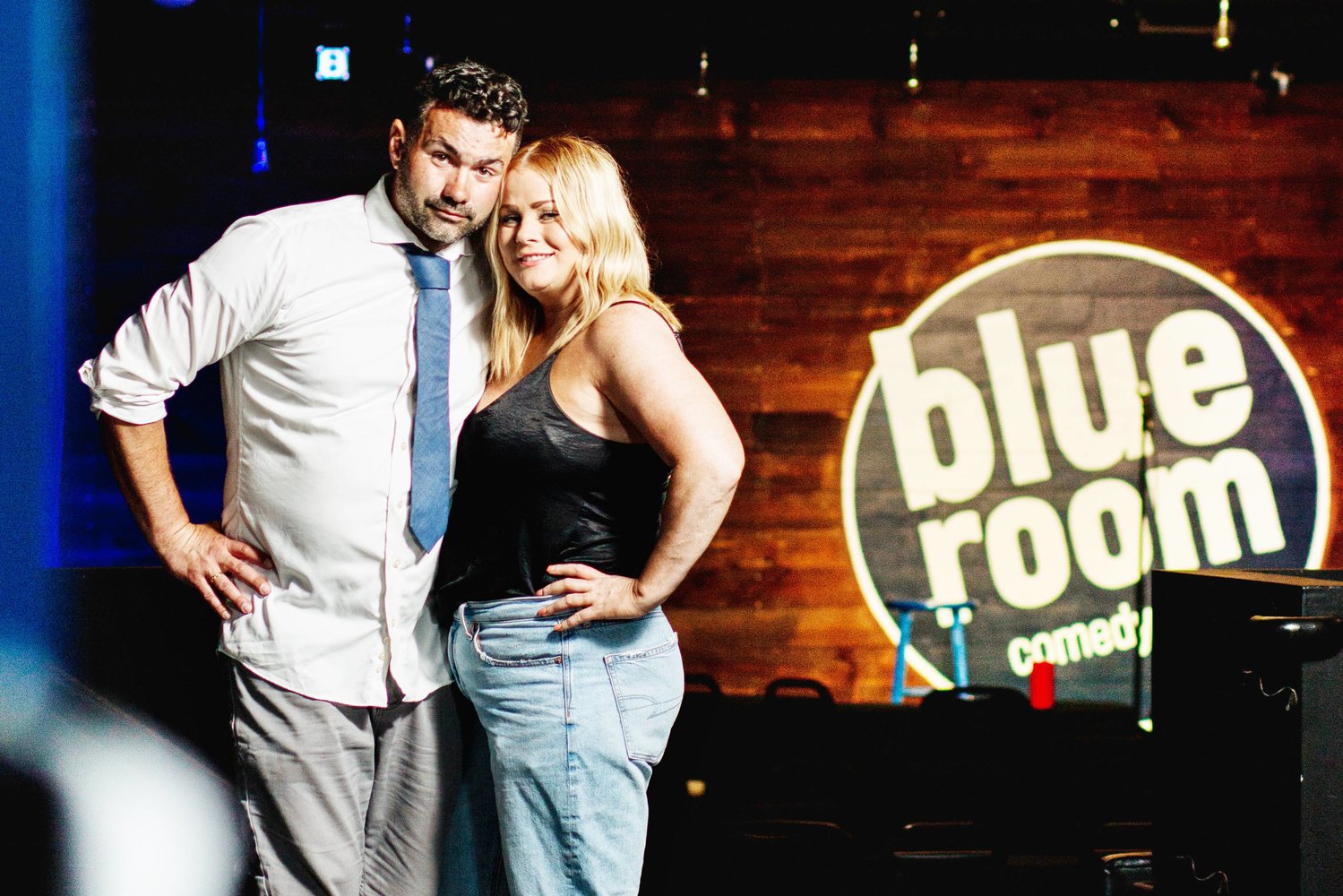 Company Spotlight: Lose the Blues
When he started Blue Room Comedy Club LLC in 2016, Chris Richele wasn't just opening a performance venue; he was trying to build a comedy culture.
Blue Room held its first shows in a room at Billiards of Springfield. The room was not blue; it was a space intended for blues musicians, but it was the local comedians who took the microphone.
From its beginnings in a space next to a pool hall, the Blue Room Comedy Club moved to its own location in 2020, to a location formerly occupied by The Well Church on West College Street.
Richele says he was scouting locations during the COVID-19 pandemic. The pool table was closed and he didn't think it was likely to reopen. But he wanted the comedy momentum he had built to continue.
"I walked in there and immediately fell in love with the place," he says of the new location. "I thought, wow – this is a comedy club!"
The well had accidentally created the perfect space for comedy, Richele says. The bathrooms were there; there was a cafe in front that could be turned into a bar. The church's overflow seating area was converted into a kitchen and the sanctuary made a perfect performance space.
Richele used a $90,000 seed loan from the city of Springfield to place his club in the building across from the Regal College Station movie theater, in an area he says the city had considered an entertainment district. He rents his space from Tillman Redevelopment LLC, whose website lists the cost at $5,875 per month.
In 2019, the last year in billiards, the club sold $275,000 worth of tickets. In the new space in 2021, Richele says the club earned more than $500,000 from tickets and food and drink sales. He predicts it will hit $1 million in 2022.
"The goal of The Blue Room is to create a culture of comedy – a comedy scene – while educating audiences," he says.
And Springfield audiences understand comedy culture, according to Richele.
There's a great place for a small club like the Blue Room, says Richele. He can book comics that are new and could go big or comics that were big.
The most popular shows tend to be those that have a large following on TikTok or YouTube, Richele says.
Big names aren't out of the question, however, Richele says. A club like the Blue Room can be a testing ground for comedians of the stature of Amy Schumer or Anthony Jeselnik.
"Before making a run at the theatre, they work on their material in small clubs", explains Richele. "They choose small clubs where they want to perform, but to get that opportunity I have to make the club great and make the public great."
Ticket prices vary, usually from $20 to $55, and reservation prices also vary.
"You can bring anyone to Springfield, Missouri, as long as you pay them," Richele says.
He calls himself a horse dealer, negotiates with an agency, who makes an offer to a manager, who then makes a recommendation to an artist.
A big part of a comedy club's job is to grow the audience by giving them the acts they want to see, but also building trust, so they also turn to comics they don't have never heard of it.
"We have to create that comedy opportunity," Richele says. "That way our club becomes like a destination for our town and for tourists who come to Springfield, and it's also a destination for comics who want to come here."
The objective is to have a club where the public and the actors can have a good time. The intimate space – the 200-seat Blue Room – allows interaction between the audience and the performer.
He added that the interaction should be natural. Audiences should not distract performers with horseplay, and comedians do not respect clubs that allow it.
The riffing – the interaction with the audience elicited by the performer – is something different.
"It can be such an organic, funny moment," he says. "It should never be forced, but it's great when it happens."
What happens between a comedian and an audience at the Blue Room is a symbiotic relationship, according to Richele. And comics feed off of that energy, says Richele.
"The performer can definitely feel the brushwork, the energy, of the audience being close to them," he says.
Brandy Martin is a Springfield resident who has experienced this energy. She says she enjoyed the performances before and after the Blue Room moved, but there is something special about the new location.
"It was nicer," she says. "I hadn't been out for a long time, but everyone who came in was well dressed, so the audience is responsive – and my drink was classy."
One of his recent visits to the club was to see actress and comedian Margaret Cho, whose work openly addresses issues of race and sexuality.
"I love how comedy provides a vehicle to tackle difficult topics," says Martin, a church administrator.
Cal Ingram, a financial operations professional, also enjoys attending events at the Blue Room, including jazz performances by MOJO, the Missouri Jazz Orchestra, which is hosted there.
Ingram called the club an underrated gem.
Richele and his wife Mollye Richele are co-owners of the club. Chris Richele says Mollye is the booth boss, making sure everything runs smoothly from night to night, while he's the professional shepherd, handling bookings, contracts and promotions.
There are open-mic events on Sundays and Thursdays, and they attract comedians from across the region, as well as local talent.
"One of the Blue Room's goals is to help develop talent to leave the nest and go out into the world to become a professional comedian," Richele said.
The only way to learn to do comedy is to fail, he says.
"It's a skill set," he says. "It takes 1,000 hours to learn how to be good at something, but you only get five minutes at a time in front of an open mic."
His club, too, is working to improve its attractiveness.
"We still have growth to do," he says. "As we grow, we hope Springfield will trust us to come with us."