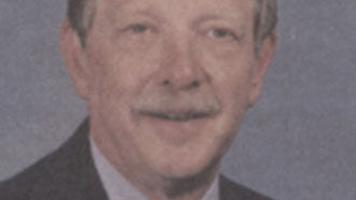 Dr Calvin Vere Morgan, Jr. | Obituary
Dr. Calvin Vere Morgan, Jr., born February 12, 1937, passed away surrounded by his family on September 23, 2021. Dr. Morgan was from Johnson City and the son of the late Dr. Calvin Vere Morgan, Sr. and Mary Will Buff Morgan.
Calvin graduated from Science Hill High School, Davidson College, Duke University Medical School and completed his surgical residency at Vanderbilt University Hospital. After graduating from Duke University Medical School, he was made a lieutenant commander in the US Navy. He served as an air surgeon on the USS Intrepid and was aboard the Intrepid during the successful recovery of the Gemini III capsule on March 23, 1965.
Returning to Johnson City in 1971, Dr Morgan joined Drs. Carroll Long and Gilbert Rannick at Johnson City Surgical Associates. He was a member of the American College of Surgeons and the Tennessee Section of the American College of Surgeons, where he served as Section President for two terms. Throughout his medical career, he was known for his dedication to the care of his patients. He retired in 2001.
Dr Morgan was on staff at Johnson City Medical Center and was Associate Professor of Surgery at James H. Quillen College of Medicine at East Tennessee State University and Quillen Veteran Affairs Medical Center. He particularly enjoyed his interactions and relationships with medical students and surgical residents and continued to communicate with and mentor them throughout their careers. Dr Morgan has had long-standing relationships with friends from high school, college and medical school.
Calvin spent many years active as a member of the United States Power Squadron, the Society of Aquatic Medicine, and the United States Coast Guard Auxiliary. He was also a long-time member of the Kappa Alpha Order and the Hurstleigh Club.
Dr. Morgan is survived by: his wife of 30 years, Mary Middlebrooks Morgan; daughter, Mary Buff Morgan and her husband Marco Vallat, of San Francisco; daughter, Catherine Lynn Morgan, also of San Francisco; two step-sons, Leland Ivey Hyer, of Raleigh, North Carolina and Brooks Hyer, of Knoxville; two grandsons, Morgan Pierre Vallat and Maxime Laurent Vallat; a nephew, Bill Skinner and his wife, Jolie, and their children Laura and John, of Raleigh, North Carolina; as well as a niece, McLeod Skinner, of Raleigh, NC.
Dr. Morgan was predeceased by a sister, Harriet M. Skinner; a brother-in-law, William P. Skinner, both of Raleigh, North Carolina.
Calvin will be remembered as a loving husband, father, stepfather and grandfather. His family will always remember seeing him proudly walking his daughter Buff down the aisle during her wedding to Marco. He will also be remembered for his time at Science Hill and at the football club with Lee and Brooks and their teammates, as well as the summers spent with grandsons Max and Morgan for whom he hosted a " redneck camp "and taught them how to fish for trout. at the creek near his house on Spivey Mountain.
Contributions can be made to Quillen College of Medicine or the Munsey Memorial United Methodist Church.
A memorial service for Dr. Morgan will be held at 11 a.m. on Saturday, October 2, 2021 at the Munsey Memorial United Methodist Church. Dr Morgan's friend, the Reverend Michael Lester, will officiate. After the service, instead of visiting, family will receive friends at Gathering Place in Munsey.
Memories and condolences can be shared with the family via www.morrisbaker.com. Morris-Baker Funeral Home and Cremation Services, 2001 E. Oakland Ave., Johnson City, serves the Morgan family. (423) 282-1521