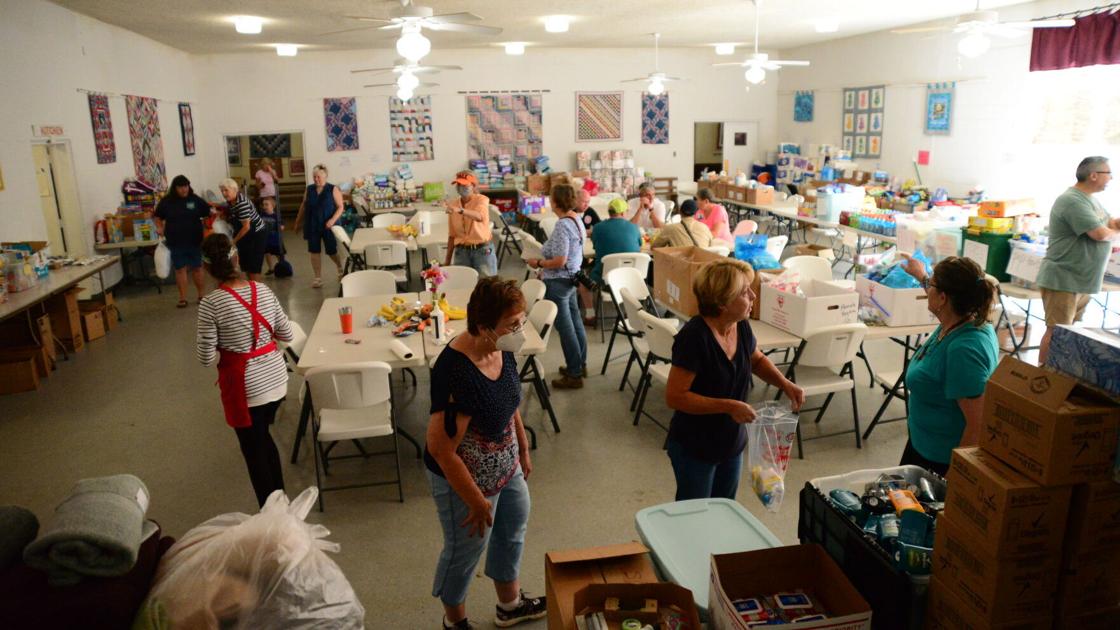 Ground Zero: one month later | New
[ad_1]
It has been a month since the flooding changed life in Haywood County in many ways.
In the aftermath of Tropical Storm Fred, there are the 114 families whose homes were completely destroyed, as well as 598 families whose homes were damaged or affected.
The scope of the disaster went much further, however. Commercial and government structures, commercial stocks and crops at various stages of the harvest were all affected by Tropical Storm Fred when it vengeanly struck Haywood on August 17.
But fierce as it is, the storm unleashed an even greater surge of community love.
It is this response that has kept people moving forward in the slow process of rebuilding their lives, said Ann Crawford, president of the Cruso Community Center and Friendship Center.
Although destruction from the storm was widespread, all six of the storm-related deaths occurred in Cruso, as did the most severe damage. The Cruso Community Center was the hub of the initial response.
Crawford becomes emotional and tearful as she describes the generosity she has witnessed since the disaster.
"Our sister community centers have been amazing, as have all of Haywood County and beyond," Crawford said. "Everyone jumped in and helped. Haywood Electric has been amazing and the crews in the yellow shirts. They were a godsend. We cannot thank people enough.
The Cruso Community Center, a building that once served as a public school building for grades 1 to 12, was located on higher ground and therefore experienced no flooding, Crawford said. Electricity and water have never been cut off, there is a kitchen / cafeteria where meals can be served and a large parking lot where some of the displaced families originally slept in their vehicles.
At first there was no parking space in the normally sleeping community, where traffic was light and crowds were generally limited to events at the community center, services at the East Fork Baptist Church of the across the road, or calls to the nearby Cruso Fire and Rescue Service.
But within days of the flooding, as many as 200 search and rescue officers from across the state combed the community, helping people to get to safety, and later, looking for those who were. are still missing. Prepared meals were brought to the community center for those who no longer had a home or were in the community to help with the flood response.
Volunteers followed closely, helping families clean houses, remove debris and scavenge what they could. Then came state and federal inspectors who quantified the damage in the area and construction crews working to restore bridges and roads.
The Baptists on the mission, dressed in their bright yellow shirts, began to work as quickly as possible to make the homes structurally sound and secure before the onset of winter.
"We've seen this community come together in ways we never could have imagined," Crawford said.
About 300 families lived across the river and had no way out after the main bridge could not be used. Once again, volunteers have flocked to the resuce.
"I didn't know there were so many SUVs in the community," Crawford said of the lifeline created by supplies being rushed to those stranded after a temporary walkway was built.
There was also a lot of carpooling, she says. Families whose vehicles were fine but couldn't get out were told to simply use vehicles that their friends would park at the community center when they needed supplies in town, Crawford said.
Throughout the ordeal, Crawford faced his own personal loss. Her husband's family owned the Laurel Bank Campground, which was devastated by the flooding and where four campers did not survive the flooding.
A new step
A month later, Crawford said the community had moved from emergency mode to the next phase – a phase where those whose lives were turned upside down by a sudden disaster came out of shock and are now in phase. acceptance.
"It's a process," she says. "The immediate needs are dwindling. The displaced people live somewhere. People are back to work. We are all in shock and in the grieving process. We got out of emergency mode, and it was bound to happen. "
The community center is almost back to its pre-disaster state. The library is open again and the supplies that once filled the cafeteria and auditorium are dwindling. The center always opens a few days a week when cleaning supplies can be picked up.
Some items are donated to other places where there is a need, such as Broyhill Children's Home, or are taken to Cruso United Methodist Church, where the meal operation has been transferred. The community center has no heating, Crawford said, and typically closes in October when the building is wintered.
"This was set up as an emergency, but you're not in an emergency forever," Crawford said.
The need for basic products such as food, supplies and clothing disappeared and was replaced by a greater demand for building materials such as lumber, insulation and Placoplâtre. Yet, there is no place yet to store these types of materials, even if they have been donated.
There is one last gathering that Crawford is hoping to have, and it's a Halloween party for the kids.
"Our kids have had such a crappy year," she said. "It was really difficult. We really hope to have our traditional Halloween festival.
Progress is slow
It has long been said that the process of recovering from a flood will be a marathon, not a sprint. A drive through the community of Cruso a month after the floods confirms this statement.
Areas of US 276 South to Blue Ridge Parkway are still single lane, but instead of just one traffic light and flagman a month ago, there are now two traffic lights which are programmed to prevent vehicles from colliding.
There are still mounds of flood debris along the roadsides, clods of roots, tree branches and debris in streams and homes in various stages of cleaning up.
Just past the Cruso Fire Department is a large mobile home that was crushed against trees by raging water on August 17. On September 18, she was still there.
[ad_2]