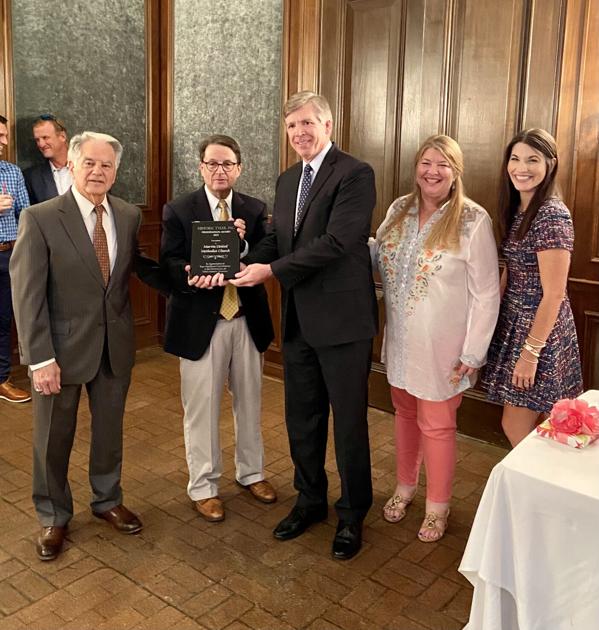 Historic Tyler presents 2021 Preservation Award to Marvin United Methodist Church | Local News
Historic Tyler, Inc. held its annual meeting, auction and party Thursday at the historic Willow Brook Country Club. A highlight of the evening was the presentation of the annual Historic Preservation Award given in recognition of extraordinary preservation efforts within the community.
This year, the Marvin United Methodist Church received the Hand Preservation Award from Claudia H. Carroll, Chair of the Board of Directors of HTI.
"We are delighted to recognize the members of the Marvin United Methodist Church for the restoration of the original stained glass windows of the sanctuary, which undoubtedly contribute to the historic integrity of downtown Tyler," said Carroll.
The church was founded in 1848 and the stained glass windows date from 1891, when the sanctuary was built. The only exception are the four pictorial windows at the rear of the sanctuary, which are said to have been installed between 1912 and 1919.
Gothic-style windows extend from the first floor of the church to the second floor. They represent Christian shapes and symbols. Some form arches, others are rectangular and some are circular, all with various patterns.
Marvin's members began to realize that the windows were in desperate need of restoration. They first noticed that the wind was swaying the panes and cracks in the panes. An inspection revealed that the interior framing had started to separate from the stained glass elevations. The restoration started in February 2019.
Using a crane, the windows were dismantled in three main phases. Those on the north side were taken out first for the two-day trailer trip to Minnesota. A few months later, the windows on the east side were removed and sent in for repair. The last lot to go were the windows on the south side. This massive restoration project lasted 11 months.
"The annual meeting is the highlight of the past year, a time to celebrate not only the preservation efforts of our Preservation Award recipient, but also our efforts to preserve the historic Tyler landscape. Despite these unprecedented times, Historic Tyler has funded several important projects this year. We recognize that our success is only made possible through the support of the community and appreciate the opportunity to recognize the caring citizens of Tyler, "commented Ashley Washmon, Executive Director of Historic Tyler.
Historic Tyler, a non-profit organization, was founded in 1977 with the mission "to promote the preservation and protection of historic structures and sites through advocacy, education, participation and private and public investment" .
It is a membership-based organization with many preservation accomplishments to its name.
Visit historictyler.org for more information or to become a supporter of Historic Tyler.