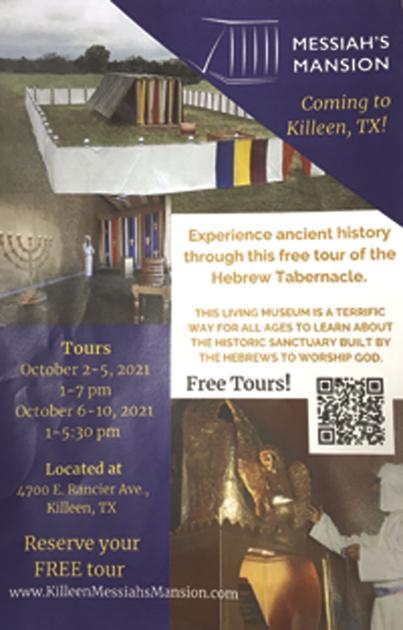 Killeen Seventh-day Adventist Church to Host "Messiah's Mansion" Traveling Exhibit | Local News
The Killeen Seventh-day Adventist Church will be hosting a Jewish Tabernacle experience called "Messiah's Mansion" from October 2-10 at the church, 4700 E. Rancier Ave. in Killeen.
Participants can learn about the story through tours of a replica of the portable tabernacle that held the Ark of the Covenant as mentioned in the Old Testament. Tour guides will lead guests through the living museum to the different sections of the tabernacle and teach each area's spiritual significance and purpose, according to church officials.
Each tour is free to the public and times can be booked on Killeenmessiahsmansion.com. Tours will run from 1 p.m. to 7 p.m. from October 2 to 5 and from 1 p.m. to 5:30 p.m. from October 6 to 10.
"We have gone to great lengths to make it as detailed and precise as possible," said Pastor James Berglund. "It is a great learning experience for all ages, especially children who can have this physical understanding of what was going on in the tabernacle at the time."
Church member Kathy Bradley helped organize the event and provided information to the Herald.
The church also hosts today until Sunday a series on the sanctuary and the feasts that took place in the tabernacle. These sessions will take place in the main church at 7:00 p.m. and are open to the public.