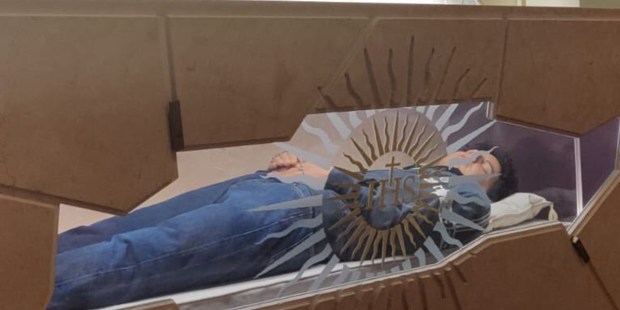 (Look!) The tomb of Blessed Carlo Acutis reopened definitively in Assisi
A panel covering the tomb of Blessed Carlo Actuis was removed on June 1 to allow pilgrims to view the "computer geek" when visiting Assisi.
Prior to the beatification of Blessed Carlo Acutis in October 2020, his tomb was opened for public veneration, allowing visitors to view the remains of the young saint, dressed in jeans and sneakers.
However, after the beatification ceremony, the tomb was closed, in part due to confusion surrounding the condition of Acutis' body.
When Acutis' body was exhumed during the inquests for his beatification, there were initial reports that his body was intact.
Prof. Carlos Acácio Gonçalves Ferreira, the rector of the sanctuary where Carlo's tomb is located, said his body was discovered "fully intact", but not intact.
While her body appears to be intact through the mirror, it is not. Acutis' body is covered in a layer of wax that is molded to resemble his body before burial. This is not uncommon for the presentation of the bodies of saints.
Holiness within reach
Prof. Ferreira explained the importance of how her body is presented.
For the first time in history, we will see a saint dressed in jeans, sneakers and a sweater. This is a big message for us; we can experience holiness not as something far away but as something quite within everyone's reach because the Lord is Lord of all.
Pilgrims from Assisi can visit the tomb of Acutis at the Sanctuary of Renunciation, part of the Church of St. Mary Major.