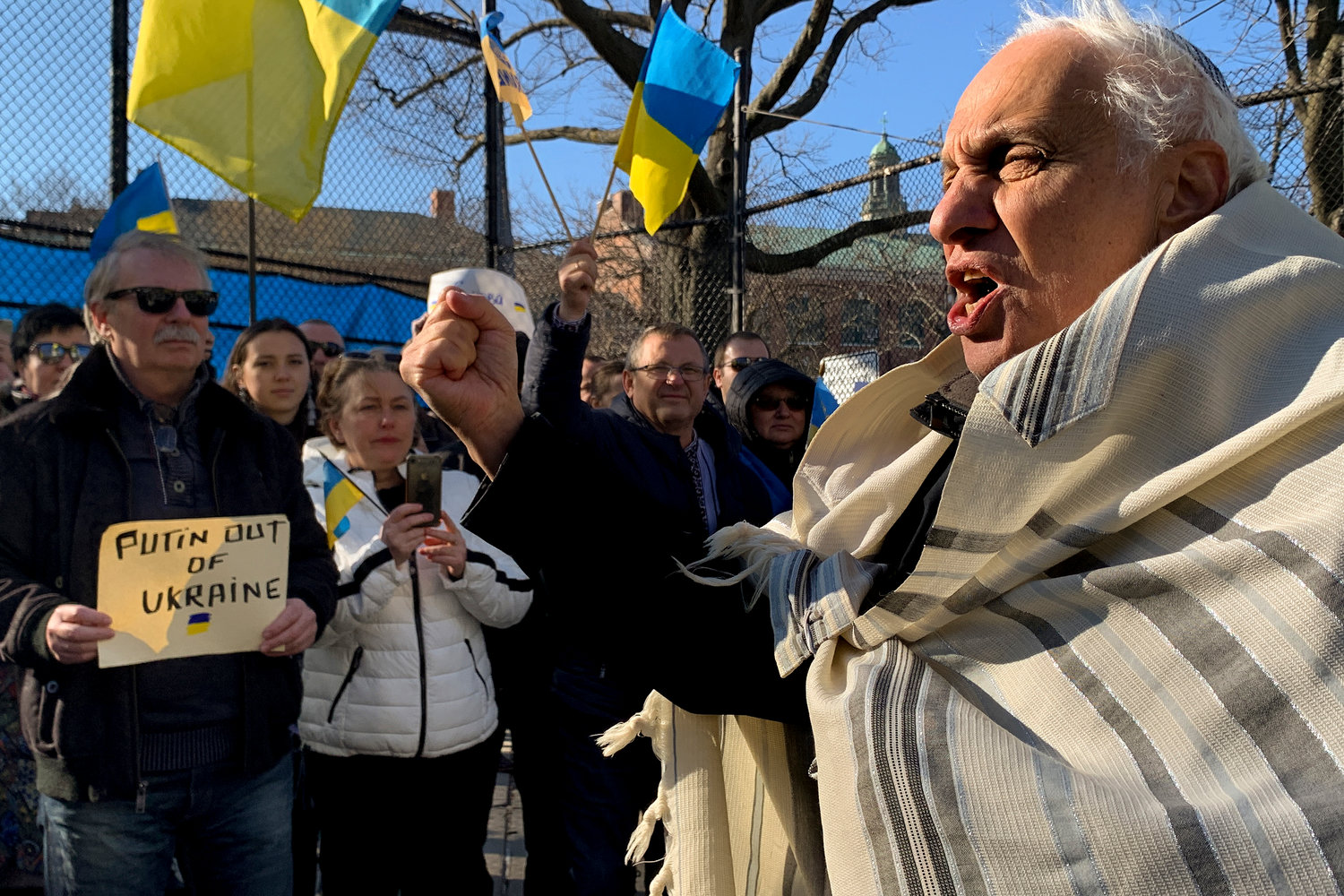 Peace demanded in the face of a brutal invasion | The Riverdale Press
By MICHAEL HINMAN
Otherwise, it might have looked like a typical Sunday morning mass at St. Michael's Ukrainian Catholic Church.
Father Kiril Angelov led the crowded sanctuary through the typical prayers, as well as calls and responses. The choir sang from a balcony at the back of the hall, heavily decorated with religious iconography from throughout the New Testament of the Bible. People got up from the pews, then sat down again – again and again, always in unison.
Yet this particular Sunday morning in Yonkers was anything but typical. Television cameras and reporters were impossible to miss. Elected officials, including state Senate Majority Leader Andrea Stewart-Cousins ​​and Yonkers Mayor Mike Spano, took their own seats in the sanctuary. And many were holding little blue and gold flags, representing what was once their home, or that of those they loved.
As Angelov progressed through the liturgy, minds certainly wandered to what was happening thousands of miles and an ocean away. A few days earlier, Russia had begun its full-scale invasion of Ukraine. Casualties already numbered in the thousands, as troops continued to push towards the Ukrainian capital of Kiev.
"We wanted to be here in prayer," Stewart-Cousins ​​told St. Michael's congregation, standing by an altar bulletin board filled with the faces of people who were already lost.
"We wanted to be here to say that every day until this is over, we will find a way – at the federal level, at the state level, at the local and county levels – to put pressure on the Russian war. For their say at all levels that it is not OK. We see what is happening.
Around the same time, just four miles to the south, a number of Bronx synagogues had gathered outside the Russian Mission residential complex on Mosholu Avenue, chanting as loudly as they could, hoping that anyone on the other side of the heavily fortified fence could hear them.
Rabbi Avi Weiss, the longtime spiritual leader of the Hebrew Institute of Riverdale, wrapped himself in a tallit – a prayer shawl – defended his fellow rabbis' decision to gather outside a compound that serves more to both residential and political purposes.
"Who would have thought that 30 years after the fall of communism, we would be standing here again, in this place, raising the voice of moral conscience? Weiss told the crowd, remembering past Cold War protests from this very spot.
"At that time, we were often asked: 'Why here? It is not a consular building. It's not a mission. Why in a residence? Our answer was simple. We know that the hearts of Russian politicians and diplomats were hardened. But we also knew that by standing here in front of their house, their children would see and hear the protest, and would go to their parents and ask with their more innocent hearts, "How are you?" How dare you?'"
The New York Police Department had been stationing personnel ahead of the North Riverdale dispute since hostilities escalated between Russians and Ukrainians overseas. Yet, at least during Sunday's protests, they were loud, but peaceful.
Later in the afternoon, a large contingent of Ukrainian nationals congregated at the same location in front of the mission, many of them arriving in a parade of honking cars as they passed the 20-story juggernaut. The crowd sang patriotic songs within earshot of the building and at one point even emptied bottles of Russian vodka onto the nearly frozen ground.
Weiss had returned to share his support with this group, saying that he and everyone at the sound of his voice should all declare themselves Ukrainians and stand with a community whose country was being dismantled piece by piece by its aggressive neighbor.
Ukraine apparently never had a geographical advantage of any kind, said Oksana Kulynych, who shared some of her thoughts with The Riverdale Press ahead of a Tuesday "call for peace" event at Manhattan College.
"My parents fled Ukraine during World War II when Russian communists were coming to villages in the middle of the night and people were disappearing," the crowd was expected to tell. "They were either killed or sent to Siberia to forced labor camps. My uncle was one of them.
During this war, Ukraine found itself caught between two totalitarian regimes: the Soviet Union and Nazi Germany.
"This part of Eastern Europe became known as the 'Bloodlands'," Kulynych said, "and Ukraine suffered more deaths than any other country."
Many of those deaths occurred in Babyn Yar, a ravine in Kiev where tens of thousands of Jews and other political prisoners were massacred. Ukraine's Chief Rabbi Moshe Reuven Azman on Tuesday accused Russian President Vladimir Putin of war crimes after he said military forces bombed the memorial that honored the 200,000 people believed to have been killed there.
"I've been silent for a long time, I won't do it again," Azman said in a video statement, according to CNN. "I address you, dear Russians, dear Jews, to all those who are not indifferent. Those who silently agree with what is happening, or those who remain indifferent, are complicit in this military crime — a crime against humanity. I only say what I see. I'm not afraid to die. I could never imagine in my worst nightmare that I could suffer under Russian bombardment.
Some news from the front earlier in the week suggested that the strong resistance of an outgunned Ukrainian army had slowed Russia's advance towards Kiev. While this conflict may seem new to many Americans with little or no connection to this part of the world, Kulynych says the hostilities are anything but new.
"The Ukrainians have been fighting the Russians for eight years and more than 14,000 people have died," she said. "The world ignored it and opted for a policy of appeasement while Russia was building its defense system.
"The United States, Europe and the entire free world cannot sit idly by and watch Putin destroy a sovereign nation. We must impress on our leaders that they must act much more decisively in isolating Russia economically, politically and financially.
"The Ukrainians want peace. Not the war."