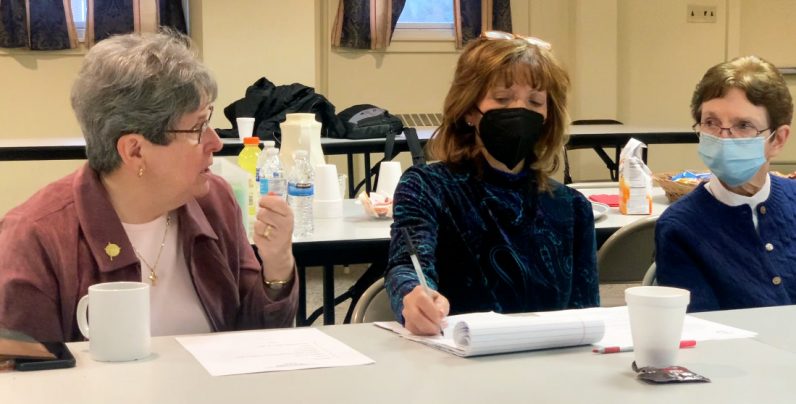 Schedule Established for Synodal Listening Sessions in the Archdiocese – Catholic Philly
By Gina Christian • Published on February 17, 2022
The Archdiocese of Philadelphia has released its program of listening sessions as part of the Synod on the Synodality of the Universal Church.
The 18 in-person gatherings, many of which will be held in Spanish, are scheduled to take place on the weekends of March 19-20 and April 2-3 in designated parishes across the Five Counties area.
Facilitators trained by the Malvern-based Catholic Leadership Institute (CLI) will lead the two-hour sessions as follows:
(See the full schedule along with registration links for each session on the Archdiocese's webpage, ArchPhila.org/synodand go to Attend a listening session.)
March 19
9 a.m. – 11 a.m.: Parish of Saint Bede the Venerable (1071 Holland Road, Holland, Bucks County); St. Pius X Parish (220 Lawrence Road, Broomall, Delaware County)
2 p.m. – 4 p.m.: Parish of Saint Martin of Tours (in Spanish; Roosevelt Blvd. and Cheltenham Avenue, Philadelphia); Our Lady of Calvary Parish (11024 Knights Road, Philadelphia)
5 p.m. – 7 p.m.: St. Rocco Parish (in Spanish; 333 Sunny Dell Road, Avondale, Chester County)
March 20th
2 p.m. – 4 p.m.: St. Peter's Parish (2835 Manor Road, West Brandywine, Chester County); Parish of the Holy Innocents (in Spanish; 1337 East Hunting Park Avenue, Philadelphia); St. Edmond Parish (2130 South 21st Street, Philadelphia)
5 p.m. – 7 p.m.: Mother Parish of Divine Providence (333 Allendale Road, King of Prussia, Montgomery County); St. Thomas Aquinas Parish (in Spanish; 17th and Morris Streets, Philadelphia)
April 2
9 a.m. – 11 a.m.: St. Cornelius Parish (160 Ridge Road, Chadds Ford); St. Malachi Parish (1429 North 11th Street, Philadelphia)
2 p.m. – 4 p.m.: Queen of the Universe Parish (in Spanish; 2443 Trenton Road, Levittown, Bucks County); Our Lady of Guadalupe Parish (5194 Cold Spring Creamery Road, Doylestown, Bucks County)
April 3
1 p.m. – 3 p.m.: St. Patrick's Parish (131 Channing Avenue, Malvern, County of Chester); Villanova University, Connelly Center (young adult session; 800 Lancaster Avenue, Villanova)
5 p.m. – 7 p.m.: Parish Mary, Mother of the Redeemer (1325 Upper State Road, North Wales, Montgomery County); St. Patrick's Parish (in Spanish; DeKalb and Chestnut Streets, Norristown, Montgomery County)
In addition to in-person meetings, 10 online gatherings will take place March 21-31from 6:30 p.m. to 8:30 p.m. Virtual synodal sessions for the general public will take place each of these days, as well as a session for young professionals on March 21, a session for college-aged people on March 22 and sessions in Spanish on March 23 and 29.
See this page to register for an in-person virtual session.
Thanks to an electronic module still under development, individuals will soon be able to contribute to remote consultation via the archdiocesan synod webpagewhere an array of synod resources for parishes and individuals – including a video message from Archbishop Nelson Pérez – can be found.
Plans for the listening sessions were originally announced in a Feb. 4 letter from Msgr. Brian Hennessy, parish priest of St. Alphonsus Parish in Maple Glen and coordinator of the archdiocesan phase of the synod.
Msgr. Hennessy said the gatherings, the results of which will be compiled in a report in June, aim "to provide as many worshipers as possible with multiple opportunities to participate and be heard."
Along with synodal activities in the Archdiocese, CLI will also implement its "Called for More" initiative to survey pastoral engagement among Archdiocesan clergy, parish leaders and parishioners.
The process of listening to the faithful – and especially those on the margins of society and the Church – is part of the preparation for the 15th Ordinary General Assembly of the Synod of Bishops at the Vatican in October 2023.
The two-year synod process was launched by Pope Francis in October 2021, with the theme "communion, participation and mission".
The word "synod" itself derives from the Greek for "with" and "way," meaning a way in which "the people of God walk together," according to a 2018 document by the International Theological Commission.
Throughout Church history, the term has been applied to a variety of assemblies convened from the diocesan to the universal level, with the Apostolic Council of Jerusalem (found in Acts 15 and Gal 2:1-10) considered a paradigm for synods.
In 1965, Pope Paul VI instituted the Synod of Bishops as standing counsel "to offer more effectual assistance to the supreme shepherd" of the church.
Noting that the archdiocese completed its own synodal process about two decades ago, CatholicPhilly.com editor Matthew Gambino recently wrote that the main purpose of the latest initiative is not to create reports final and strategic plans.
"The journey is the point, not the destination," he said. "A synod should lead a church community to learn to listen to each other – to each other and to the voice of the Holy Spirit working in our lives. And listening should become a permanent feature of the church.
***
Bishop Nelson Perez invites you to participate in the local participation of the Archdiocese of Philadelphia in the synod on synodality: