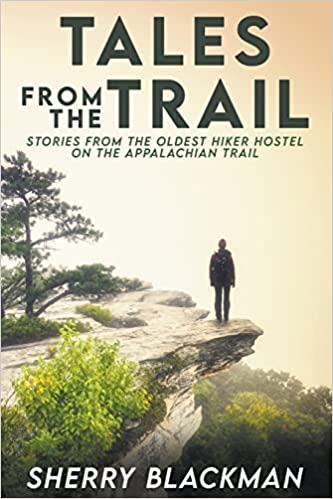 Sherry Blackman's new book Tales from the Trail is out, a collection of spiritually charged stories from the oldest hiking lodge on the Appalachian Trail
Tales from the Trail: Stories from the Oldest Backpacker's Inn on the Appalachian Trail by Sherry Blackman was released worldwide. This 255-page collection pays tribute to those who dare such a grueling and soul-satisfying adventure on the 2,200-mile trek from Georgia to Maine.
The Mountain Presbyterian Church in Delaware Water Gap, Pennsylvania is home to the oldest operating backpacker's hostel on the Appalachian Trail (AT), providing sanctuary to more than 1,200 hikers a year. Blackman is a spiritual investigative reporter in her new book, drawing on decades of experience as an award-winning, globetrotting journalist, poet and author. She brings a keen observational eye, inquisitive intellect and deep compassion to those who have shared their stories and yearnings for answers, healing and transformation in this cathedral of nature.
Tales from the Trail, half memoir and half spiritual reflection, recounts the adventures, some humorous, others deeply moving, of those who dare to strip life down to the bone to discover or rediscover their humanity.
Tales from the Trail (ISBN: 9781737628736) can be purchased from retailers worldwide, including barnesandnoble.com and Amazon. The paperback sells for $15.99. Bulk orders are available through Ingram.
From the back cover:
During the 2020 pandemic, one thing proved true: Dozens of people set out for a day hike on the Appalachian Trail (AT) as if they were in the woods, immersed in beauty and mystery. , immunized them against an invisible enemy. The TA has become a hospital for souls locked in quarantine, needing to breathe, stretch and be grounded by the earth beneath their feet.
For decades, the TA has been a sanctuary for the seekers, the weary and the lost; those who thirst for renewal, the broken and the bereaved; and those who want to face and answer the questions they have dragged with them in invisible backpacks. Questions like, what's next for me? Is there a God? Should I live or stop everything? How can I free my life from what weighs it down? How can I forgive God?
This book pays tribute to all who dare such a trying and soul-satisfying adventure. It tells the stories of those who are on pilgrimage through
conversations and encounters, exploring and revealing which angels hikers wrestle with in nature, angels who call again to name them. This collection reveals the spirituality of such a journey in sometimes humorous, sometimes heartbreaking portraits.
Tales from the Trail explores the desire within us to lose our life, to find it.
About the Author:
Reverend Sherry Blackman is the pastor of the Presbyterian Church of the Mountain in Delaware Water Gap, Pennsylvania, home to the oldest continuously operating hiking lodge on the Appalachian Trail. She is a journalist, poet and author of Call for evidence: A true story of a woman's battle with a disability, discrimination and a pharmaceutical powerhouse, published in 2013. Additionally, Reverend Blackman serves as a chaplain for the Pennsylvania State Police. His forthcoming book, Rev-It-Up: Stories from a Truck Stop Chaplain, due out in 2022, chronicles her adventures as a truck stop chaplain, a ministry she has been carrying out since 2006.
About MindStir Media:
MindStir Media LLC is an award-winning book publisher. To learn more about publishing a book with MindStir Media, visit http://mindstirmedia.com or call 800-767-0531.
Media Contact
Company Name: MindStir Media LLC
Contact: Jen McNabney
E-mail: Send an email
Call: 800-767-0531
Address:1 New Hampshire Avenue Suite 125
City: Portsmouth
State: NH
Country: United States
Website: https://mindstirmedia.com/