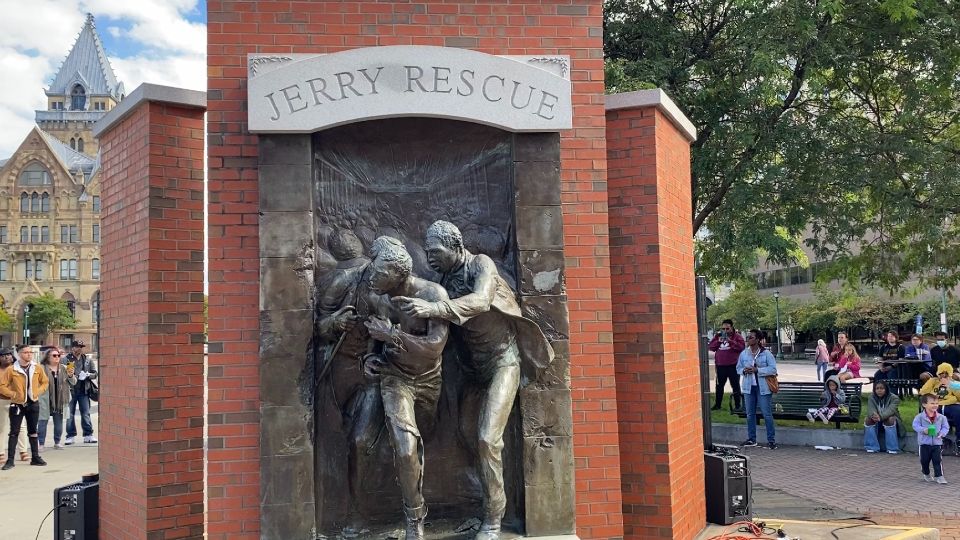 Syracuse's Vineyard Church Celebrates Jerry's Rescue Day
Celebrating a history of freedom and unity, Syracuse's Vineyard Church celebrated its second annual Jerry's Rescue Day in Clinton Square.
Community members gathered around the Rescue Jerry Statue in Clinton Square to hear music, poetry and learn the story of Jerry's celebration.
"It's a story that comes from slavery, but it's an encouraging story, and it's about freedom and it happened here in Syracuse," said Quintal Stitt, children and family pastor. at the Syracuse Vineyard Church.
Jerry Rescue Day dates back to October 1, 1851 when a man named William Jerry Henry escaped slavery in Missouri and fled to Syracuse. Due to the Fugitive Slave Act implemented in 1850, he was apprehended. A group of outraged citizens, black and white, rescued Henry from a jail where he was being held on Clinton Street. Since then, the day has been celebrated as Jerry Rescue Day, but it came to a halt during the Civil War era.
"Last year we had a wonderful event, it's our second annual Jerry's Celebration," Stitt said. "The reason it was important to start over was because not many people knew about this significant historical event."
Stitt says they wanted to spread the word, saying the historic event represented unity and that's what they wanted to embody.