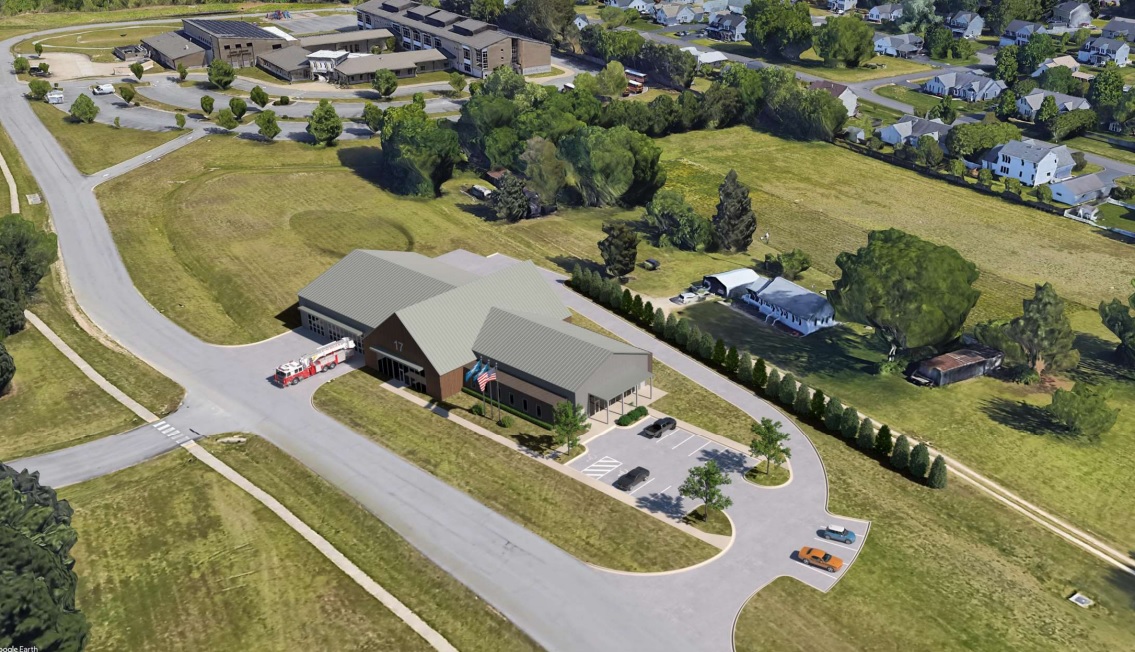 The agenda: notes from local governments for 8.1.22
Site acquired for a new fire station in Hannover
Hanover's supervisory board accepted a donation of 3.5 acres from the county school board in late July to serve as the site for a new fire station, according to a county press release.
The grounds for the new fire station are adjacent to Laurel Meadow Elementary School. Construction of the facility is expected to begin next summer. The county's fiscal year 2023 budget includes $11 million for the project.
A dozen firefighters currently stationed at Mechanicsville Fire Station No. 7 would occupy the new fire station once it is built, according to the release.
The Planning Commission is expected to consider a conditional use permit for the new fire station in October. Final approval by the Supervisory Board is scheduled for early November.
1,400 acre solar farm OK in West Chesterfield
Chesterfield's Board of Supervisors voted last week to approve a new solar farm south of Hull Street Road in Deer Range Road.
The 52-megawatt solar farm proposed by 360 Solar Center LLC is expected to occupy 1,400 acres on a 1,930-acre site. The solar panels would occupy approximately 440 acres of the site.
Chesterfield taps longtime employee to lead accounting department
Consuela Wilson has been appointed as the new head of the accounts department at Chesterfield, after a stint of nearly two years as deputy head of the department.
Wilson, who has worked for Chesterfield for more than 20 years, took up his new position on July 11, according to a county news release. She was promoted to assistant principal in November 2020. The accounting department handles payroll and accounts payable for the county government and school district, among other duties.
Wilson was promoted to succeed Donna Arrington, who retired in June. Wilson is a former UVA.
New Registrar General plays leading role in Chesterfield election
Chesterfield County has a new Registrar General and Chief Electoral Officer.
Missy Vera is sworn in as County Registrar General and Chief Electoral Officer, where she oversees election administration and voter registration in the county. Vera had served in the interim role since March, according to a county news release.
Vera succeeds Constance Hargrove, who resigned to become Registrar General for Pima County, Arizona.
Vera joined the Chesterfield Registrar's Office in January 2017. She was appointed Deputy Registrar in November 2019.
Vera will serve the remainder of Hargrove's four-year term, which ends next year. The county electoral board could then choose to reappoint her for another term, according to the statement.
Longtime assistant city attorney Haskell Brown named to top job
Richmond City Council appointed Haskell Brown III as city attorney effective August 1.
Brown has served as the acting city attorney since November 2019, following the retirement of former city attorney Allen Jackson. Brown has worked in the city attorney's office since 1998 and has served as assistant city attorney since 2010, leading the office's governance and finance division.
A native of the Richmond area, Brown holds a bachelor's degree with a double major in history and government from UVA and a law degree from West Virginia University College of Law. He is an active member of the Virginia Local Government Attorneys and served four years on its Board of Directors.
SUP approved for planned apartment building on Arthur Ashe Boulevard
At its regular meeting last week, City Council approved a special use permit allowing the Tier 2 development and SJG properties to include structured street-facing parking and a drop-off and pick-up area for their Leigh Addition mixed-use development project at 1117-1201 N. Arthur Ashe Blvd.
Council has approved TOD-1 transit-oriented nodal district zoning for an approximately half-acre parcel at 500 Maury St. in Manchester and a 2-acre warehouse at 807 Oliver Hill Way.
A request from Richmond Hill Design + Build to change its plan to replace six houses in the 500 block of Westview Avenue with new groups of houses was amended and continued until the September 12 meeting. The amendment would reduce the number of new homes from 12 to 10.
A request to change the Stratford Hills community unit plan was also deferred to the September 12 meeting. The amendment would increase the plan area from 2.85 acres to 67.4 acres to accommodate Harper Associates' plan to develop a Chipotle restaurant and retail plot of 6,500 square feet and up to 36 homes in row on the east side of the site.