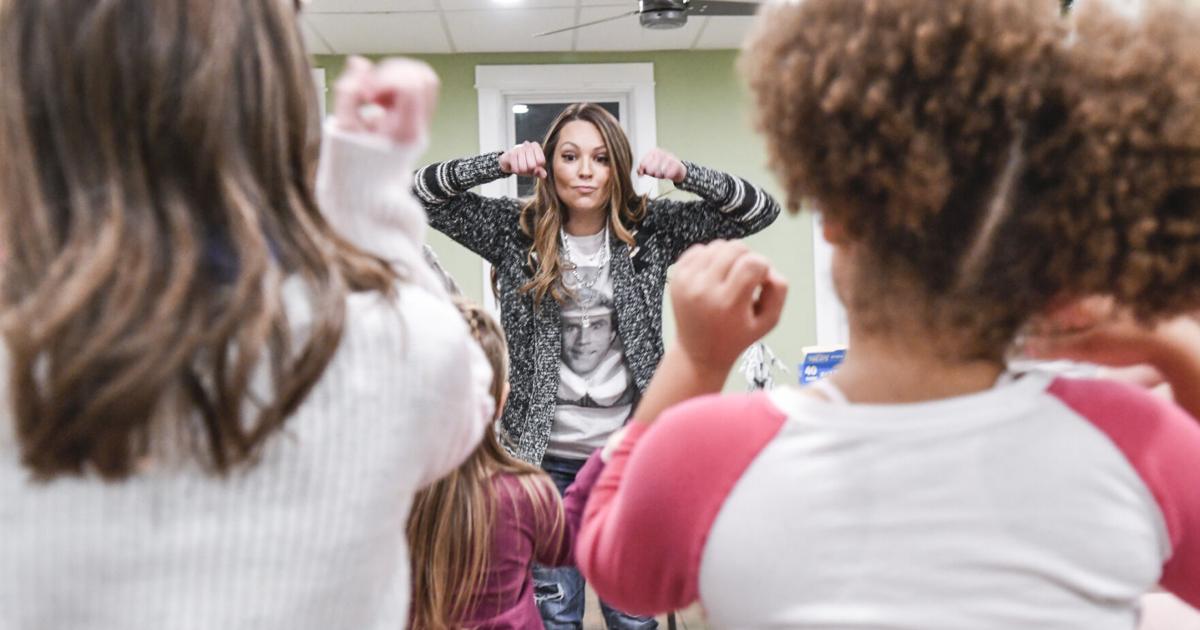 The Studio Promotes the Arts and a Healthy Lifestyle in New Shamokin Business | Business
Body, mind and soul are the core business of The Studio, a company newly opened in Shamokin.
Owner Lauren Zimmerman admits it sounds cheesy. That's not to say it's not true.
A professional hairstylist, Zimmerman owns and operates Lauren's Hair Boutique at 527 N. Market St. The studio is on the second floor of 35 N. Market St., a short walk from the salon. Think of it as a passion project.
Zimmerman recognized the small business revitalization underway at Shamokin and she felt that something else was needed: the arts.
"Other companies are really taking off and one of the things that was missing was this," Zimmerman said.
The Studio is a multipurpose space. Since opening in October, it has hosted a litany of courses and workshops. There are evening yoga classes on Tuesdays and Thursdays. Mindfulness and more on Saturdays. Painting lessons for adults and children, a youth choir and niche workshops punctuate the monthly schedule.
"It's all the arts. We strive for everything for everyone, "Zimmerman said.
As Zimmerman described the concept, school-aged children flocked to the bright and functional two-room space overlooking Market Street. They are members of The Local Vocals. Zimmerman wanted this to be a unique event for Christmas. Then dozens of children signed up. She has 32 members in the singing group of at least two schools, ranging in kindergarten to grade 12.
They performed at Shamokin's Home for the Holidays community event on November 27 and drew a crowd of people standing at Cafe Bamse, a large space that was once a church shrine. They raised nearly $ 1,000 for the Shamokin School District's Purple Elf Project.
Local chants occur again in Bamse at 6 p.m. On December 14, Zimmerman is planning more performances in 2022 and will reopen registrations to join.
Leonard Machesic, 16, a junior at Our Lady of Lourdes Regional School in Coal Township, met Zimmerman through the Anne Miles Children's Theater. The youth group presents a musical each summer at Shamokin. Zimmerman choreographed "Frozen Jr". This year. Machesic was an artist and viewed The Local Vocals as another outlet for something he loves.
"I really didn't think it would be that many people. I was surprised when I saw it for the first time, "Machesic said.
Destiny Smith, 19, a student at Shamokin, volunteers with The Local Vocals. She helps coordinate the children during practices and performances. Like Machesic, Smith knew Zimmerman through the local theater company. When she heard about her plans for The Studio, Smith said she wanted to be a part of it.
"I love children so much. Seeing how happy they are when they dance is really lovely, "said Smith.
Christie Blair teaches yoga on Tuesdays. Tricia Dietterick leads the Thursday class. Both are certified instructors. KymBre Shingara, also a certified instructor, teaches Saturday yoga, belly dancing and more. The paint parties are led by Jacqueline Valania. Alicia DePeal from Peace of Mind Massage & Reiki will visit occasionally to promote her practice of reiki.
Zimmerman conducts The Local Vocals. Elizabeth Stevens is the Studio Assistant.
All of them work full time or have their own businesses.
"It's our fun thing. When I kept saying I wanted to do this, everyone said I was crazy, "Zimmerman said. "I thought, why not? I have met a lot of why not. I just decided that if I didn't try, I would never know.
For more information on The Studio, including event listings and registration information, search @ thestudio.onmarketst on Facebook and Instagram.