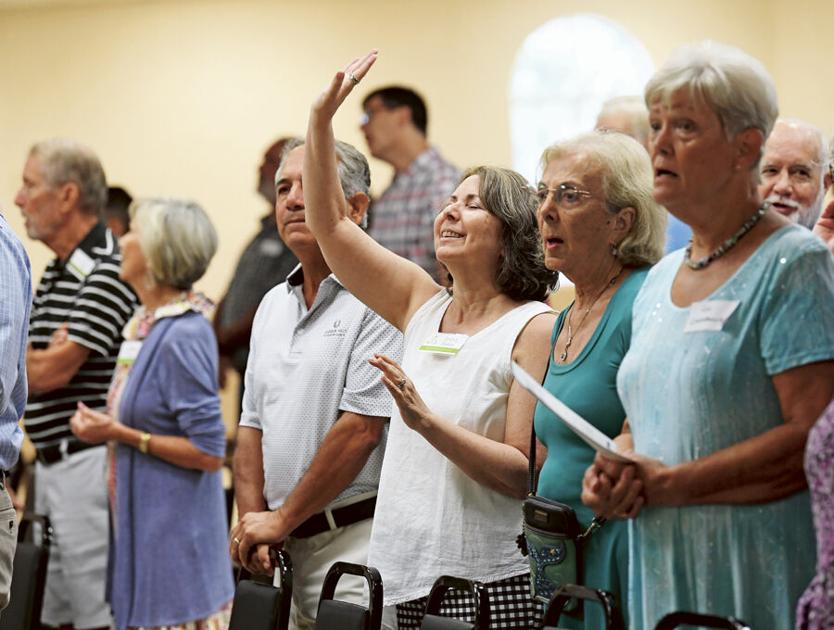 The Villages prove to be a refuge for the faithful | News | The Daily Sun of the Villages
Concerns about church membership and attendance have increased in recent years. A March 2021 Gallup poll found that only 47% of American adults polled were members of a place of worship, the first time in the poll's eight decades of history that the number had fallen below 50%. By comparison, 70% of Americans surveyed said they belonged to a church, synagogue or mosque in 1999.
When Gallup first surveyed Americans on church membership in 1937, the number of those who identified themselves as members of a place of worship was 73%. The number remained under study for the next 60 years or so, but at the start of the 21st century it began to decline.
Church membership is also strongly correlated with age, according to Gallup, with two in three traditionalists – Americans born before 1946 – belonging to a church. Compare that to 36% of millennials surveyed, those born between 1981-1996, who consider themselves members of a place of worship.
In an area with a large population aged 55 and over, one would assume that interest in religion and participation in worship would be strong in the surrounding villages and communities. And local pastors say that, in general, it is.
"A lot of churches across the country have shrunk dramatically," said Pastor Keith Johnson of the Christian Faith Chapel in the Villages. "Here at Chapel, we've had our own ups and downs given COVID-19, including a two-week shutdown in September due to an isolated case."
Ahead of the September shutdown, Johnson said the church averaged about 80% of its pre-pandemic membership for in-person worship. But he noted that the Christian Faith Chapel is improving every week, with more and more people viewing the services and sermons online.
"We also have a number of people joining the church," Johnson noted. "A few weeks ago I ran an introductory class with several people in attendance. In addition, we have a good number of visitors who attend worship in person every Sunday."
Places of worship in the area are reporting healthy growth in terms of new members. At New Covenant United Methodist Church, approximately 150 people have joined in the past 18 months. And at Fairway Christian Church, 43 people have joined in the first eight months of this year.
"We haven't completely returned to pre-COVID attendance numbers, but we are getting closer," said Butch Gastfield, Minister of Preaching for Fairway Christian. "When it comes to footfall, we're about 80% of our pre-COVID numbers. The trend is definitely on the rise, and we're also seeing a good number of visitors check out Fairway services every weekend."
Gastfield said he and other Fairway staff and worshipers have heard from churches in other states struggling to get people back to the sanctuary. So why are things different in The Villages?
"After more than a year of being stuck at home, the villagers and others want to come out again," Gastfield said. "The church is part of their life and they want to experience it again."
Johnson of Christian Faith's Chapel added that the pandemic is an example of what he called "bad times are good times for the gospel."
"People are looking for real answers in the wake of the pandemic," he said. "When they start thinking about these deeper questions, they turn to the Bible, then turn to the clergy and other Bible teachers. We are now in a time when people are thinking about what God is saying, who he is."
At the new Seven Rivers Villages in Wildwood, church pastor Stephen Speaks said things were off to a good start in terms of attendance.
"I thought our opening worship service on October 3 was very encouraging," he said. "Although we didn't have an official count of everyone, we had about 130 people, from retirees to infants."
There are still a good number of people who are not ready to enter a place of worship anytime soon. Since the start of the COVID-19 pandemic in March 2020, most places of worship in the region have offered worshipers the option to watch the service or other events on their computers, tablets or phones. And the numbers of virtual alternatives remain strong for some local churches, 18 months after the start of the pandemic.
Pastor Mark Schulz's weekly sermons at the Open Bible Lutheran Church in Oxford regularly have at least 1,500 views on Facebook. Encounter Church and Freedom Fellowship of The Villages have both seen the number of viewers of their services reach triple digits on Facebook in recent weeks. And in Wildwood, a virtual initiative worked so well that it became a full-fledged church.
"The Florida Conference of The United Methodist Church recently decided to make Living Room Church its own entity," said Reverend Michael Beck, co-creator of Living Room Church and co-pastor of Wildwood United Methodist Church and St Mark's United Methodist Church of Ocala. "This is the first fully online congregation in the history of UMC in Florida."
The origins of Living Room Church came after Wildwood UMC, like many other churches in and around The Villages, halted worship and in-person events due to COVID-19. Beck is a leader of the "Fresh Expressions" movement, a worldwide initiative to bring the church to those who cannot or are uncomfortable physically attending a traditional church service. He and Wildwood UMC have been successful in bringing the church to places such as tattoo parlors, restaurants, and dog parks.
"Between March and December of last year, we welcomed approximately 600 people to the Wildwood UMC family through worship and virtual events," noted Beck. "Most of them were having their first meeting at church. They felt safe and secure coming to church in this digital environment, and would prefer to stay that way."
Thus, Living Room Church was born, bringing together worshipers and staff not only from central Florida, but also from Georgia, Virginia, Illinois and other states. Currently there are 1,400 Living Room Church members, and Beck sees nothing but growth to come.
"Facebook has over a billion users worldwide," he said. "There are people at different levels of their spiritual development who for some reason don't feel comfortable walking into a sanctuary. They feel much more comfortable working and interacting online. . There is a virtual audience looking for a church that understands this, and we believe Living Room Church is that solution. "
Principal writer James Dinan can be reached at 352-753-1119 ext. 5302, or [email protected]